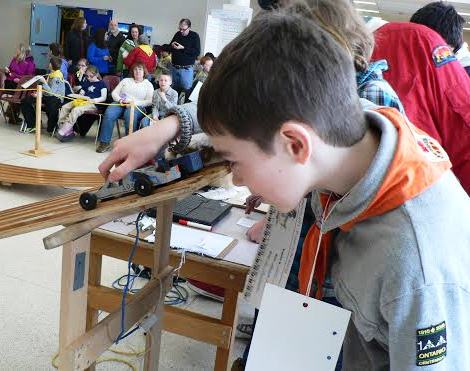 10 year old Alastair McPherson, a grade 5 student at Ferris Glen, carefully places his car on the starting grid of the Nipissing Area 80th annual Kub Kar/Scout Truck/Beaver Buggy Rally held at Widdifield Secondary School Saturday. Photo by Brenda Turl.
Screams and squeals of delight filled the Widdifield Secondary School lunchroom Saturday as 120 Scouts raced home-made cars in the 80th annual Kub Kar Rally.
The children buy a kit that contains a block of wood, wheels, and axels. Directions are included on how to make a simple car…after that it's up to the child's imagination.
With parent's help the kids build it, shape it, put the wheels on and paint it.
There are three awards, fastest car, best design, and workmanship.
"If you want to make it best design, you're creative. You make it into a dragon or something," said rally Chairman Bernie Stockermans. "Workmanship is a lot of detail, very realistic. Most kids try to go for the fastest."
There was lots of creativity…and smiles, as children carefully placed their cars on the sloped track.
Anna Potvin, a grade 3 student at Ecole Heritage, said she had great fun building her creation.
"I was working with my Mom one night to find the paint that I liked, and I like old cars because my Dad loves those. So I put glitter on it."
"It's my second year of Cubs and it's been really fun because I was the first girl Cub in this group and I brought all my friends. Since I'm in it, other girls have decided to come in and now there are three girls".
Alastair McPherson, a grade 5 student at Ferris Glen Public School built his car based on the DeLorean…the "Back to the Future" time traveller.
"It's silver and it's got all the wires and mechanical stuff painted on it along with the flux capacitor and Doc and Marty," the young racer smiled.
It took Alastair over 10 hours to build his masterpiece, but says it's seeing all the other kids and cars that is the best part.
"Your car going down the track is very exciting", Alastair exclaimed, and I love seeing how well my car does against other members of the cub pack."
The rally is a regional event, and while the kids get trophies and door prizes, the biggest award is "bragging rights".