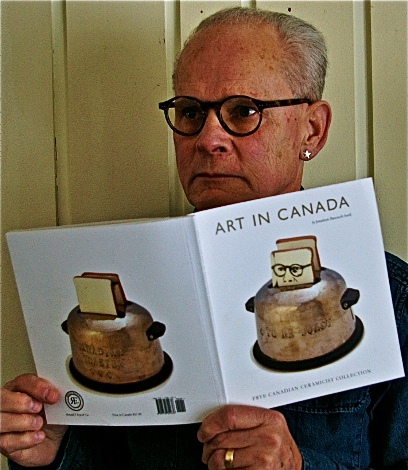 "Art in Canada" is the title of a new book written by Jonathon Bancroft-Snell and published by Ronald P. Frye & Company about North Bay Ceramic Artist Keith Campbell's installation work called "Toast".
This was the signature installation for Keith's traveling exhibition called "Journey Through The Past" arranged through North Bay's WKP Kennedy Gallery with a grant from the Ontario Arts Council.
This Exhibition travelled to Galleries across Ontario from September 2011 to ending its tour at the Jonathon Bancroft-Snell Gallery in London, Ontario in September 2013.
This book came about at first named " the Toast Project".
Jonathon bought this work and then sold the work one piece of Toast at a time.
Each piece of toast had the portrait of a famous Canadians.
Within days the 40 pieces of toast from this work basically flue of the wall. Buyers were from across Canada and from all walks of life like the people portrayed on the Toast.
From an eleven year old girl who bought the Laura Secord Toast to the great niece of Tom Thomson who purchased the Tom Thomson Toast.
Each of the people who purchased a piece of Toast got to write 50 words of what "Art in Canada" means to them.
Each piece of Toast and the 50 worded comment are printed in the book with an essay written by Jonathon Bancroft-Snell.
It is an insightful and positively reflected book on what people think about Art in Canada through their interaction with the installation work called Toast by Keith Campbell.
Exceptionally printed and produced with high quality photographs of the portraits on the 40 pieces of Toast.
Story and photo submitted.