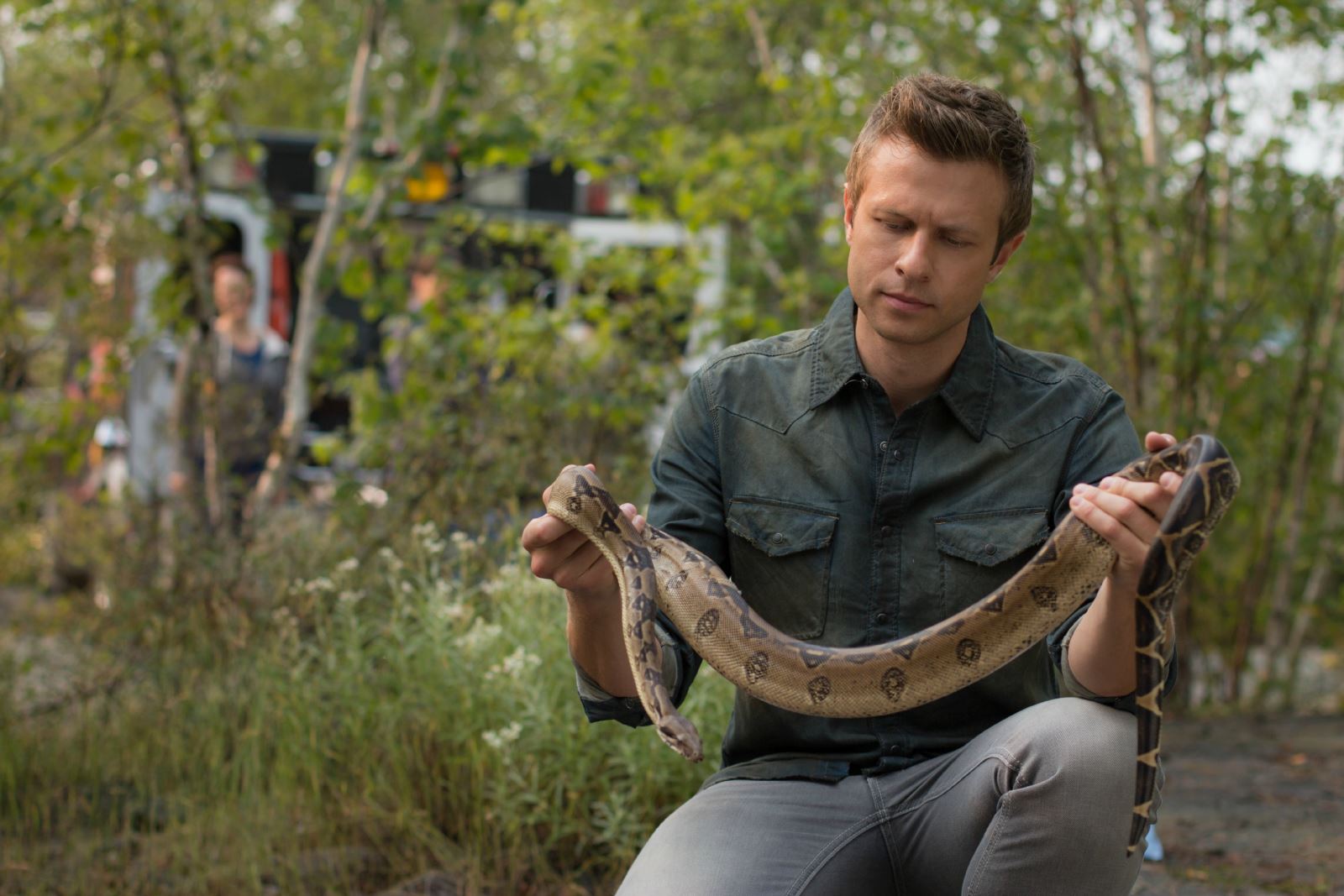 North Bay's Jamie Spilchuk, seen here in his leading role as Cameron Cahill in the television drama Hard Rock Medical, is set to star in the show's second season which premieres on Sunday, February 15, on TVO . PHOTO COURTESY OF MIKE TIEN AND TVO
Before Jamie Spilchuk even set foot on the set of Hard Rock Medical, he said he knew it was going to be different; something that makes a statement.
Now, after being the subject of positive reviews and encouraging ratings, Spilchuk is preparing for his second season debut in the critically acclaimed television drama.
The series, which is loosely inspired by the Northern Ontario School of Medicine, follows eight medical students and the way they adapt to studying and living in Northern Ontario.
"In season two the story line and the faculty throw the students into the deep end even more and they basically throw all that they have at them and see what they can handle," Spilchuk explained in an interview with BayToday. "It's basically sink or swim."
Spilchuk's character, Cameron Cahill, originally took on the persona of the misunderstood artist of the group. As the product of a wealthy mining CEO, Cahill's classmates tend to think he has it easy thanks to his father's financial standing with the school.
But the second season, he said, is when life gets really interesting for Cahill.
"For Cameron, lightning strikes in more ways than one, which changes his path for the rest of his life," he explained without trying to give too much away.
Hard Rock Medical is TVO's first commissioned drama series and, after a critically acclaimed inaugural season, was given the green light to film a second installment in Sudbury last summer.
"In season one we shot in the fall, but in season two we got to shoot in the summer and there's no better place to be on the planet than Northern Ontario in the summertime," Spilchuk said from his Toronto home. "It's cool to not only to be working on a critically acclaimed show, but we got to work on it in Northern Ontario.
"It's a homecoming for me coming back to the North," he added.
Early screenings of the series also show that the Northern Ontario character development has grown in the on-screen product as well, with Sudbury's cityscapes and surrounding nature playing a pivotal role.
Those involved have said the second season adds the element of the challenges of providing medical care in the remote rural communities of the region.
While one might think that the medical drama is a saturated genre on television, critics and cast alike say Hard Rock Medical has been unique from the very beginning, which the second season renewal is a testament to.
"I think this show differs from all of those because it shows how the students got there," said Spilchuk. "It shows how the doctors became doctors, which is what I like.
"The one big indicator for me was that Hard Rock and TVO cast this two months before we started filming, which is absolutely unheard of in this business," he continued. "The lead time heading up really hit home that they were really taking this seriously."
The show also received funding from the Northern Ontario Heritage Fund Corporation to support the regional production of the series, which has opened the door for aspiring local talent as well.
A total of 18 actors from the North Bay area took part in last summer's shooting schedule, two of who are recurring roles from the first season.
One of the new episodes in particular will feature three leading North Bay actors for the first time since the show began filming.
The episode, titled Things Are Going to Change, features Spilchuk alongside Jim Calarco, who plays his ultra-wealthy father, and Leigh Elliott, Spilchuk's love interest in the show. Elliott is expected to appear in three episodes throughout the season.
For more on North Bay's involvement in the show, click here: http://www.baytoday.ca/content/news/details.asp?c=65135
Spilchuk said that talks are apparently underway for a potential third season and he speculates that it could be a very realistic possibility if the positive reviews sustain.
Beyond the show itself, Spilchuk said having the opportunity to play a major leading role for the first time in his life is paying dividends elsewhere in the industry.
He explained that big studios in Los Angeles, where he spends a portion of his time and is off to next week, often bring up his role in the series and say it carries a lot of weight as far as proving his ability to lead in other roles.
"I've never been a lead on a series before, so this is unchartered territory for me," he explained. "It's proving to be a training ground more than anything because it's a great opportunity for me to dive into what it's like to be a lead: the time commitment, the research commitment, and everything else that's required of you.
"You can't learn that stuff in a classroom or a book, you can only learn that through experience," he continued. "When I walk into a room now for an audition or interview, I have that extra level of confidence now that I have the experience of a leading role under my belt."
The second season of Hard Rock Medical consists of eight episodes, which air on TVO on Sunday nights. Past episodes of the show can also be viewed online at www.tvo.org/hardrockmed .
After the February 15 premiere, the remaining six episodes will air from Sunday, Feb. 22 to Sunday, March 29.