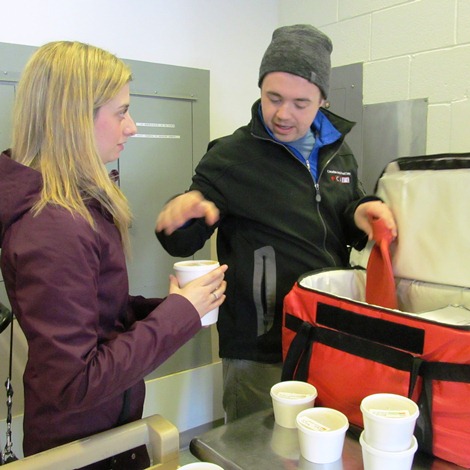 Meal On Wheels volunteers Keith Ward and Melissa Chapin pack up hot meals for delivery for the Mayors for Meals campaign.
On Tuesday Mayor Al McDonald joined with mayors across the country to hit the bricks delivering meals to the elderly and infirm the annual Mayors for Meals campaign.
The campaign to help raise awareness and importance of supporting the Meals On Wheels program which not only plays a vital role in the nutritional wellbeing of city residents, but also often serves as a lifeline for those they serve.
"It's an opportunity for mayors to promote the good work of Meals on Wheels," explains McDonald.
"To encourage individuals to volunteer for Meals on Wheels to deliver these meals to senior citizens and those that really need a hand and can't get out of their house."
For Roger Tremblay the program guarantees he will have a hot nutritional meal every day and takes the pressure off of him to have to cook.
"It makes it a lot easier you don't have to worry about what you're going to cook or where it's going to come from … don't have to shop so it means a lot just to have the meal in itself," Tremblay tells McDonald.
Meals On Wheels, which is run out of the Cassellholme kitchen, by VON North Bay relies solely on volunteers and that does not escape the mayor or Tremblay.
"They go out in all kinds of weather," says Tremblay.
"They come out in sun, summer, winter, real cold and to do it for nothing – just for pleasure -- it means a hell of a lot … really."
"I think the heartwarming part of all of this really is the volunteers and why they do it," states McDonald.
"Dealing with the volunteers and actually going to the homes of these people that receive the food and seeing their reaction and how much they depend on this really tells you the story of why and you know and a good reason why people should get involved."
For 20 year volunteer veteran Ed Roach and novice volunteers Keith Ward and Melissa Chapin the reward of volunteering for the program is the same they all get a sense of helping someone in need.
"I know that it's something little not that big of a deal but yah I enjoy being able to just put a smile on their face by saying 'Hi'," says Chapin who has been with the program for two years.
Ward, who has also been volunteering for two years, says the community has helped him in the past and getting involved with the Meals On Wheels program was a great way of giving back.
Little did he know it would be a give and take experience that was far more rewarding than expected.
"I get to experience different livelihoods going to different families talking to people being in the community and then in return I just get the joy of knowing I'm making a difference and help people out."