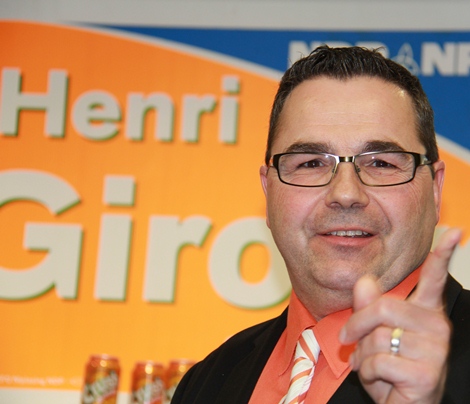 Hoping third time's the charm Henri Giroux officially accepted the nomination to represent the Nipissing New Democrats for the upcoming provincial election.
Giroux was acclaimed at the riding association's nomination meeting Friday.
Agreeing with NDP Leader Andrea Horwath, Giroux says voters have a real choice and he is a candidate who can deliver results for the people of Nipissing.
Dropping his gloves Giroux took no time coming out swinging against his biggest rival incumbent PC MPP Vic Fedeli.
"Some people ask me: Isn't Vic Fedeli impossible to beat?"
"My friends, no politician is impossible to beat. That's what makes democracy so great. Any politician can be beaten if the right factors are in place."
Referencing the losses of former Premier of Ontario, David Peterson and former Premier of Quebec Pauline Marois, Giroux says no politician should think they are safe at election time.
"So if major politicians like those two can be beaten, what about a one term MPP who is only a legend in his own mind couldn't he be beaten too," he states.
"In his short career as an MPP Vic Fedeli has made one really big mistake. He decided to tie his entire political future to an unpopular, mistrusted, extreme right wing leader named Tim Hudak."
"A leader who just last month watched his own team get defeated in his own home town of Fort Erie when the NDP's Wayne Gates won the traditionally Liberal held seat of Niagara Falls in a by-election."
"He's tied his wagon to a PC leader that is unliked and unpopular and who will have to resign after he fails to become Premier in the next election. And that will mean the end of Vic Fedeli's rising star. No cabinet seat – No Premier to say what a great guy he is. No leader to promote him. And that's all he cares about – being the big star."
"My friends if we work together, we can beat Vic Fedeli," he told the small enthusiastic group of supporters.
Giroux says his primary goals for the riding as MP will be to create jobs, improve healthcare and making a better life for low to middle income earners.
"Ontario Northland is the big issue now we're losing Ontera I mean those are the issues that we're going to have to talk with Andrea Horwath to see if we can rebuild that for me personally I like to see the train back on the track."
Asking the party to get behind him by putting their boots on the ground, Giroux told folks he is ready to roll up his sleeves and campaign his heart out to win the riding.
"This is my community. This is my home. It's where I grew up, it's where I've worked all my life, raised my kids. It's the community that I know deserves better and will get better if you will send me to Queen's Park to work for you."