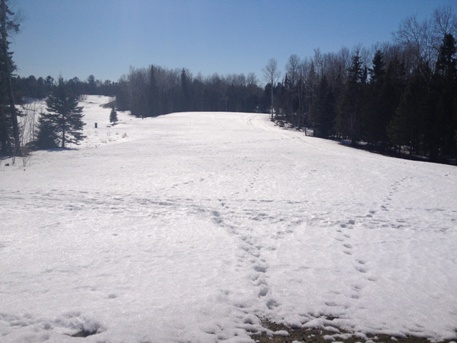 A white blanket still covers the #14 fairway at Osprey Links. Photo courtesy of Jeff Rogerson.
It was March 23rd, 2012 and course Osprey Links is free of snow and open to the public.
Spring forward 2 years and the weather is oh, so much different.
On this day, General Manager Jeff Rogerson looked out onto a golf course still covered in snow.
"It is what it is," was the simple answer Rogerson responds when asked about the long winter all of Northern Ontario suffered through this winter and early spring.
"Two years ago we opened in March, golfers played in 20 plus degrees weather, but a few days later the temperatures plummeted and we ended up closing for half of April," Rogerson recalled.
Like many other golf courses in the region, most of the fairways on Osprey Links are still covered in snow.
Rogerson is being patient with his 18-hole course and is targeting the first weekend of May as a potential season opening tee-off.
"I'm really surprised on our back 9 how quickly the snow is going," said Rogerson.
"People are getting really anxious. I'm still staying really hopeful looking at that first weekend of may if everything goes perfectly, although 3 weeks out that may be a bit optimistic."
Rogerson adds the long, cold winter hasn't damaged any greens or fairways yet.
He is concerned only if the snow leaves very quickly followed by a cold spell and high winds.
"That would dry everything out," stated Rogerson about that worst case weather scenario.
With the season looking more than a month away, the best way to enjoy golf for now will be watching the Masters from your couch.