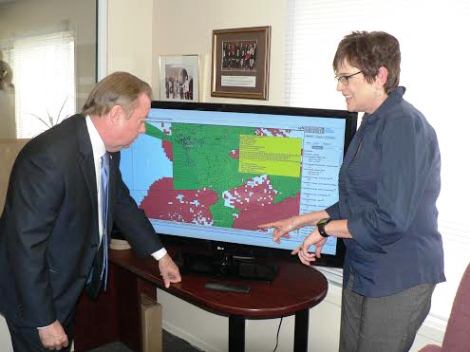 MP Jay Aspin listens as Blue Sky Net Executive Director Susan Church explains gaps in high speed internet across the district. Photo by Jeff Turl
If you're not happy with the speed of your internet, you'll be happy with an announcement today by the Federal government.
MP Jay Aspin announced that $1.3 million will go to a group called Blue Sky Net to assess the need for high speed internet across the North.
"We map where the high speed is, and where we see holes, we try and get the private sector and government to work together to build the necessary infrastructure to develop high speed internet," said Executive Director Susan Church
Having high speed internet attracts businesses to areas that wouldn't be given a chance without it. When businesses expand or re-locate here, that creates jobs and lowers taxes for residents.
For example, Magnetewan is still on dial up, and places like Peninsula Road and Feronia need upgrading.
"This is huge," said Aspin. "It affects all of Northern Ontario and will have a very positive impact on our regions economy."
Church says Blue Sky Net, a not-for-profit corporation, works to remove barriers to cellular and broadband for businesses, develops web sites and helps e-commerce.
BSN has helped almost 200 clients, from small one person companies to large mining companies, and has been in operation for 12 years.