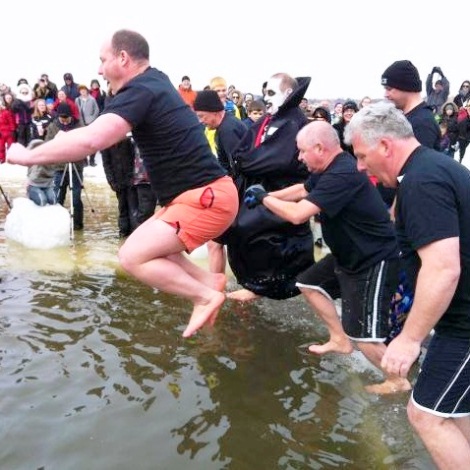 Area Police Service Members including City Police Chief Paul Cook and West Nipissing Police Chief Chuck Seguin live the Special Olympics athlete's oath "Let me win. But if I cannot win, let me be brave in the attempt" as they take a polar plunge Saturday. Photos provided by Jennifer and Merv Shantz.
Putting on their bravest faces 150 daring souls gathered at the waterfront Saturday to usher in spring with a quick dip in the frigid waters of Lake Nipissing all for a good cause.
"The event was a tremendous success," Merv Shantz, Special Olympics Ontario 2015 Winter Games Manager tells BayToday.
"We raised $50,000."
Shantz says the funds will go directly to the 2015 Special Olympics Ontario Provincial Winter Games that are to be held in North Bay.
"The Games themselves will cost approximately $400,000 … most of which will come from local sponsorship and other events like the Polar Plunge."
Shantz applauds the 50 volunteers who turned out to assist in pulling the city's first Polar Plunge together, but he is overwhelmed with the support the group has received from the entire city.
"We hope to run as an annual event."
"This was a wonderful display of North Bay's community spirit and their support of Special Olympic Athletes. Without the community's involvement, this event would not have been the huge success we saw on Saturday!"
To get involved, sponsor an event or athlete and for more information visit the website www.specialolympics2015games.com .