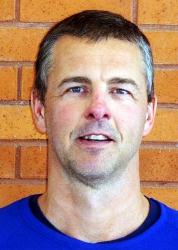 Special Olympic 2015 Winter Games Committee
News Release
*****
Former National Hockey League (NHL) and North Bay Centennials player, Bill Houlder, was announced as the Honourary Games Athlete for the 2015 Winter Games on Monday, March 24th, during a meeting of the Games Management Team.
In making the announcement, Chief Paul Cook, North Bay Police Service, and Games Chairperson, stated "We are pleased that Bill has agreed to take on this key role as we gear up to host the Winter Games in North Bay next year".
Bill Houlder commented that, "It is a great honour to be the Honourary Athlete for the 2015 Special Olympic Games. I am fortunate to see the power of sport and the positive impact it has on people every day. I look forward to cheering on the athletes as they reach for their goals."
Houlder was drafted to the North Bay Centennials of the Ontario Hockey League in 1984, where he played for 3 years before starting his NHL career with the Washington Capitals in 1987. He went on to play for 16 years in the NHL with 7 different teams.
Bill currently coaches in the North Bay District Girls Hockey Association where he also serves as the Vice-President.
Bill will be dropping by the Polar Bear Plunge tomorrow (Saturday, March 29th), at 1:00 p.m. to cheer on the over 140 participants who have signed up to jump into Lake Nipissing. The plunge is taking place municipal boat launch next to the marina.
The $25,000 goal was surpassed several days ago and it is anticipated the total raised will go over the $35,000 mark by the time the event kicks off. All the proceeds will be going towards the North Bay 2015 Special Olympics Ontario Winter Games being held January 29th to February 1st.
The 2015 Winter Games are being hosted by the North Bay Police Service, with the support and participation of numerous individuals, organizations and agencies throughout the community and beyond.
The Service is working in partnership with Special Olympics Ontario to organize and run the Games.
For more information visit – www.specialolympics2015games.com .
*****