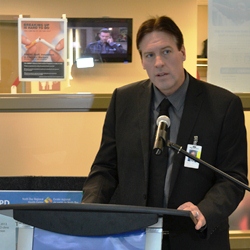 North Bay Regional Health Centre
News Release
*****
Wednesday, North Bay Regional Health Centre (NBRHC) President & CEO Paul Heinrich (pictured) and North East Local Health Integration Network (NE LHIN) CEO Louise Paquette joined patients, families, staff and physicians to open a new breathing clinic at the Hospital.
The 'Breathing Clinic' will allow early diagnosis and intervention for patients with chronic obstructive pulmonary disease (COPD) and provide the tools for these patients to manage their care, provide support in the community and help reduce the need to be admitted to the hospital.
"Quality care, close to home – that's what Northerners want," says Paquette.
"The NE LHIN is pleased to have partnered with NBRHC on the analysis that determined people suffering from COPD were one of the top five most frequent visitors to the hospital's emergency department. This clinic is a win‐win – more options for quality care and less pressure on the hospital's emergency department."
Physician Lead Dr. Roberto Lavoie, Internal Medicine Specialist, says the clinic will provide patients with accurate diagnosis through a spirometry—a simple breathing test.
"This clinic will also make sure our patients have the recommended medications and know how to use them, and action plans to help our patients know how to manage their symptoms at home."
The clinic will offer support to patients with COPD by following provincial best practice recommended guidelines including: smoking cessation, vaccinations, reducing risk of infections, arranging home oxygen, and helping to improve their ability to perform their activities of daily living.
Heinrich explains the new clinic will improve access to care, since it will guide patients through the system and help patients stay in their homes, versus being admitted to hospital.
"The opening of this clinic is a good example of our commitment to effective partnerships with the community, allowing our patients to receive the right care, at the right time, by the right provider," he says.
"The ultimate goal is to assist patients with COPD to improve their quality of life."
Patients will access the clinic through a referral by their family physician, primary care provider or walk‐in clinic. The clinic will enhance the strong partnership with community services, specifically NECCAC Rapid Response Nurses.
*****