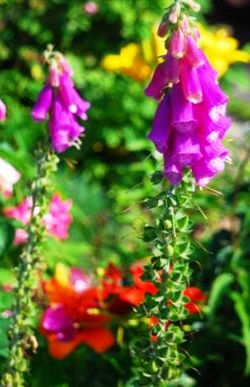 Heritage Gardeners
News Release
*****
The Heritage Gardeners will be celebrating seventeen years of success at our Seventeenth Annual Heritage Gardeners Volunteer Appreciation Luncheon/Symposium on Sunday April 27, 2014 at the Clarion Pinewood Park Resort from 10:30-2:30.
Our Guest Speaker is Lorraine Johnson who will be speaking about Native Plants.
Lorraine Johnson has written numerous books on gardening with native plants, including 100 Easy-to-Grow Native Plants, The New Ontario Naturalized Garden, and Tending the Earth.
She is past-president of the North American Native Plant Society (NANPS), and edited the NANPS journal, The Blazing Star, for many years.
She has contributed to naturalist and gardening magazines such as On Nature and Canadian Gardening, and is the Canadian editor of the books Garden Plants and Flowers, and Canadian Gardener's Guide. Her forthcoming books include Encyclopedia of Garden Plants for Every Location, of which she is the Canadian editor.
At this volunteer appreciation event, Mayor Al McDonald will Proclaim Heritage Gardener's Week from April 26 until May 3rd. Events planned for the celebration of Heritage Gardeners week include:
April 26: Annual Waterfront Clean-up Blitz , Rotary Rotunda (to be held at Discovery North Bay Museum in the event of inclement weather) 9:00-11:00am
April 27: Volunteer Appreciation Symposium, Clarion Pinewood Park Resort 10:30am -2:30pm
April 29: Vested Interest Taste Testing exclusive for Heritage Gardener Volunteers 6:00-9:00pm at Vested Interest's New location at 1407 Main St. in Callander
April 30: Tree planting in honour of Team Leaders at 5:30 the Rotary Rotunda at the waterfront
May 1: Photo Art Fundraiser at Discovery North Bay Museum from 6:30-9:30 with the photos to remain on display until the end of May.
May 3: Heritage Gardener Volunteer Day at Discovery North Bay museum 10-2
Mayor Al McDonald will also make presentations of Certificates of Appreciation to our dedicated volunteers who have served for the community for five, ten and fifteen years.
In 1999 the Heritage Gardener's Organization created the Honorary Heritage Gardener of the Year Award to recognize an individual or group in the community who is not a Heritage Gardener.
The worthy recipient would exemplify our motto "Community Sprit in Full Bloom", has demonstrated stewardship of the environment and has reached out beyond their back yard.
Nominations can only be made by Heritage Gardener Volunteers.
This year our volunteers have chosen Dr. Rod Johnston as Honorary Heritage Gardener for 2014.
Rod is also a dedicated community volunteer being chairperson of the Heritage Railway and Carousel Company as well as chairperson of the Community Waterfront Friends.
Rod has also helped with the tree planting events over the past few years at the Community Waterfront Park and truly exemplifies our motto of "Community Spirit in Full Bloom".
******