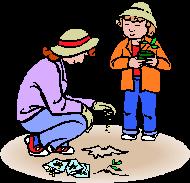 Heritage Gardeners
News Release
*****
Wednesday, February 12, 2014
7:00-8:00 P.M.
LOCATION: Discovery North Bay Museum
100 Ferguson St.
North Bay
You are invited to share in a Free Evening of Education with the Heritage Gardeners.
On Wednesday, February 12, 2014, the topic will be Seed Dreaming with Lucy Emmott.
Lucy Emmott, a life-long gardener and a mother of three young children, lives on a farm outside of Powassan where her lifestyle reflects a passion for local food and environmental advocacy.
Her gardening experience ranges from having run several garden businesses to growing everything from a small city garden to a large market garden (1 acre+).
At this point in time, Lucy grows much of the family's food in a large organic garden, into which she incorporates flowers and bee-keeping.
Lucy believes that this is the ideal time of year when all gardeners (beginners to experts) should cozy up with their seed catalogs and begin to "dream" their gardens.
Some highlights: Selecting the right seeds and planting stocks, what catalogs to order from, based on our climate, available space, our own gardening themes and philosophies and strategies to reduce costs, etc..

A Master Gardener will be on hand to answer any gardening or plant related questions that you may have.
This session is free but donations are always welcome. Participants may also wish to participate in the twoonie raffle in support of Heritage Gardeners.
Participants must pre-register by Tuesday, Feb. 11 by noon, by calling 705-472-4006 or emailing heritage.gardeners@heritagenorthbay.com
To find out more about the Heritage Gardeners Organization and to check our schedule of upcoming events, please go to our website: www.heritagenorthbay.com
*****