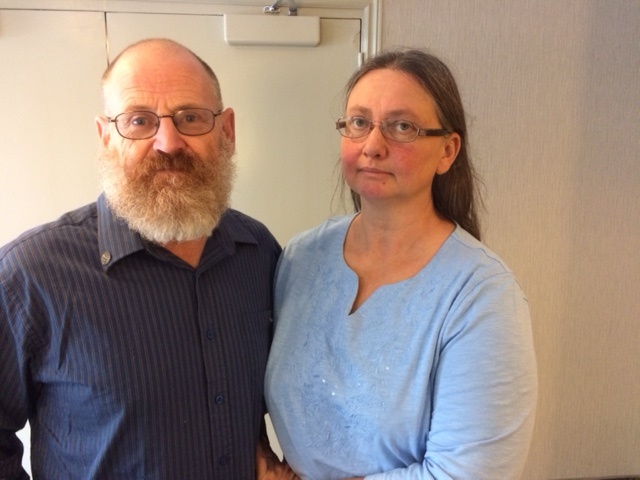 Dog Rescue farm owners Randy and Rebecca at the Animal Care Review board this morning.
A hearing by the Animal Care Review Board (ACRB) into the seizure of 71 dogs from a dog rescue farm in Trout Creek heard opening arguments, and details from a pair of inspectors this morning at the Best Western on Lakeshore Drive.
The board hears appeals from individuals whose animals have been seized or who have been issued orders by the Ontario Society for the Prevention of Cruelty to Animals (OSPCA).
OSPCA lawyer Brian Shiller opened, saying a complaint led to OSPCA officers to visit the farm in May where "conditions extremely unsanitary" with some dogs in need of surgical procedures.
The dogs were seized, said Shiller because it was "difficult to assess the well-being of the dogs on site" and it was a "far too hostile environment."
Shiller also said one dog was put down because it had advanced cancer, and the action was not done in secret.
The owners of the farm, Rebecca and Randy Ashworth, have accused the OSPCA of killing the dog, a family pet, without their knowledge.
See original story: OSPCA kills seized dog without owner's knowledge.
http://www.baytoday.ca/content/news/details.asp?c=82327
Meanwhile, The Ashworth's lawyer, Terrance Green hinted he will challenge the search warrant used by the OSPCA and also has issues with the conduct of the OSPCA during the removal of the animals.
"It's tearing my clients apart," he said referring to the emotional impact the OSPCA have had on his clients.
During his opening remarks Green said all the animals were under vet care at the time, and over 30 of the 71 seized were already going to other shelters or owners, but that action was blocked by the OSPCA.
Many of the dogs are from war-torn areas of the globe, but Green maintains the dogs were "properly taken care of and fed" by the Ashworths.
The hearing continued in the afternoon and will be updated by BayToday.
Three days were set aside to hear evidence, however Shiller indicated more time would probably be needed.