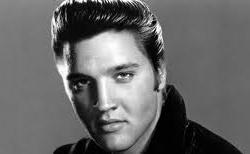 (1) January 8, is Elvis Presleys' birthday,
He would have been seventy-nine years old on that day.
Even though he's been gone for over thirty-six years,
It's as though he never went away!
(2) He was born in Tupelo, Mississippi, in 1935.
It was when he first appeared on this Earth.
He had a twin brother by the name of Jesse,
Who unfortunately died at his birth.
(3) Elvis had very humble beginnings
And his family moved from place to place.
His father even served time in a work-farm prison,
For a very minor forgery case.
(4) Elvis and his family moved from Tupelo, Mississippi,
In 1948 when he was thirteen.
He could n't know it then, but in a few short years,
He would be on the giant movie screen!
(5) Elvis' first job was driving a truck,
For an electrical company in town,
But his first love was always music
And he was destined to be the 'King Of Sound'!
(6) The first song Elvis ever recorded was 'My Happiness',
At 'Sun Records' in 1953 and one other,
It cost Elvis four dollars to record these songs,
They would be a birthday present for his mother!
(7) When Elvis started out on his career,
He was not one of the famous elite.
It took awhile for him to become popular,
But then he had the whole world at his feet!
(8) As Elvis became more popular,
He started recording for RCA.
In a very short time he became a 'Superstar',
Fame and fortune was on its' way!
(9) Elvis made more than thirty movies.
'Love Me Tender' in 1956 was the first.
All of his movies made a good profit,
As onto the movie career scene he burst!
(10) Some people did n't like Elvis very much,
Because he was popular and had a different sound,
But they were mostly jealous of him
And his talent that seemed to abound!
(11) One day someone picked a fight with him
And thought they could push him around,
But they soon found out that he was no sissy,
When Elvis knocked him to the ground!
(12) Elvis bought a beautiful Memphis mansion for his family in 1957,
It's called 'Graceland' and is a popular tourist site.
It is the second most visited 'Historic House' in the United States,
The first is a 'House' in Washington, D.C., of 'White'!
(13) That's when he met Col. Parker,
Who guided his career for years,
From movies to records and concerts,
He was 'Number One' on the 'Entertainment Frontier'!
(14) Elvis served time in the American Army
And was stationed in Germany for two years.
When he was discharged he was as popular as ever,
And he continued on with his music career!
(15) Elvis was a very kind person.
He was generous to a fault, it's a fact.
He once bought a wheel-chair for a handicapped lady,
Then gave her daughter his new Cadillac!
(16) He's one of three entertainers who were inducted,
In both the 'Country' and 'Rock And Roll' 'Halls Of Fame'.
The other two are Johnny Cash and Hank Williams,
We will always remember their names!
(17)'Imitation is the sincerest form of flattery'
And Elvis has millions of sincere fans.
There are literally thousands of 'Elvis Impersonators'
Singing the songs of this amazing man!
(18) Elvis married a girl named Priscilla,
Who he had met when he was overseas.
They have a daughter named Lisa Marie,
She was a welcome addition to their family!
(19) Elvis was very spiritual.
He loved to sing Gospel songs.
His back-up singers were the 'Jordanaires'
They would sometimes sing all night long!
(20) I have a friend in North Bay,
Who loves Elvis with all of her might!
She has seen Elvis in person several times
And said he was pure dynamite!
(21) Then came that fateful day in August of 1977,
I remember exactly where I was that day.
I was working at a sawmill in Chapleau,
When Elvis Presley passed away.
(22) Elvis died from heart failure at Graceland,
While he was preparing for another tour.
He was only forty-two years old,
Now he sings in Heaven ever more!
Bob Bartlett,
North Bay, Ont.