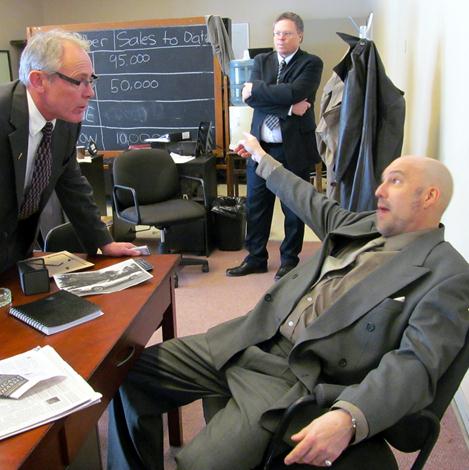 File Photo
News out of Sault Ste. Marie, where the 2014 QUONTA Drama Festival was hosted this past week, is that Gateway Theatre Guild's cast and crew of "Glengarry Glen Ross" have walked away with the top prize 'Outstanding Production'.
Traditionally the show that takes QUONTA's Outstanding Production heds to the Theatre Ontario Festival which will be held this year in Sarnia May 14th to 18th.
Joshua Bainbridge is also bringing home hardware for Oustanding Director and Outstanding Visual Presentation.
Cast members Morgan Bedard and Brad Carr also got a nod from the adjudicator with a nomination for Best Supporting Actor.
BayToday congatulates the cast and crew for a job well done!
The full list of awards are as follow:
QUONTA 2014 Festival Awards
Adjudicator Award - Properties
Sponsored by ELATE (Elliot Lake Amateur Theatre Ensemble)
Winner: Incorruptible Cast and Crew - Sault Theatre Workshop
Adjudicator Award - Light & Sound
Sponsored by Espanola Youtheatre
Winner: Gore Bay Theatre
Adjudicator Award - Brain Power (Set Pieces)
Sponsored by Mary Capstick
Winner: Walter Maskel & Richard Gamelin - Gore Bay Theatre
Adjudicator Award - Integrity of Playing
Sponsored by Thorneloe Theatre
Winner: Michelle Goulet - Take Two Theatre
Adjudicator Award - Stage Management
Sponsored by Ian Maclennan
Winner: Colleen Halverson - Sault Theatre Workshop
Adjudicator Award - Outstanding Newcomer to Theatre
Sponsored by Espanola Little Theatre
Nominations:
Phoenix Deschene - Sault Theatre Workshop
Victoria LeFort - Take Two Theatre
Brandi McCallum - Sault Theatre Workshop
Shawn Parker - Gateway Theatre Guild
Zachary Smithers - Gateway Theatre Guild
Winner: Victoria LeFort
Outstanding Visual Presentation
Sponsored by Gore Bay Theatre
Nominations:
Gore Bay Theatre
Gateway Theatre Guild
Winner: Gateway Theatre Guild
Outstanding Actress in a Supporting Role
Sponsored by Mary Rossiter in memory of Kathy West
Nominations:
Randi Mraud - Sault Theatre Workshop
Jessica Lajoie - Gore Bay Theatre
Brandi McCallum - Sault Theatre Workshop
Winner: Jessica Lajoie
Outstanding Actor in a Supporting Role
Sponsored by Family Life Theatre
Nominations:
R.J. Renner - Sault Theatre Workshop
Morgan Bedard - Gateway Theatre Guild
Brad Carr - Gateway Theatre Guild
Winner: R.J. Renner
Outstanding Actress in a Leading Role
Sponsored by Don and Joyce Watts
Nominations:
Jeannette McCreight - Take Two Theatre
Michelle Goulet - Take Two Theatre
Victoria LeFort - Take Two Theatre
Winner: Jeannette McCreight - Take Two Theatre
Outstanding Actor in a Leading Role
Sponsored by Jim Dukes in memory of John Fagan
Nominations:
Sasa Jurko - Sault Theatre Workshop
Chris Cayen - Gore Bay Theatre
Vincente Belenson - Gore Bay Theatre
Winner: Chris Cayen
Outstanding Director
Sponsored by Richard Howard
Nominations:
Andrea Emmerton & Walter Maskel - Gore Bay Theatre
Joshua Bainbridge - Gateway Theatre Guild
Winner: Joshua Bainbridge
Outstanding Production
Sponsored by QUONTA Drama Region
Winner: Gateway Theatre Guild