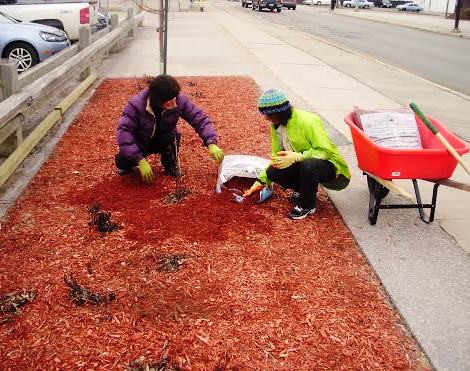 Greening Nipissing
News Release
*****
Greening Nipissing helped North Bay celebrate Earth Day on April 22nd (Tuesday) by gardening and cleaning up litter in the city.
Community volunteers and members of the public worked together to add mulch to Greening Nipissing's Depave Paradise site.
In October 2013, Greening Nipissing removed asphalt from a public space across from City Hall, and on April 22nd cleaned up and maintained the two gardens.
The volunteers then transferred to the Chippewa Creek EcoPath at Fisher St. park to clean up litter and debris from the winter.
"Our Depave Paradise rain gardens survived the winter quite well, and we look forward to planting more native perennial plants this year," said Vijanti Ramlogan Murphy, Executive Director of Greening Nipissing.
"At the Chippewa Creek EcoPath we picked up pop cans, candy wrappers, coffee cups, and even a ruined smartphone" said Ramlogan Murphy.
Greening Nipissing encourages everyone in North Bay to do their part to beautify our city.
This can be done by cleaning up litter on local streets, in front of your own house or apartment, keeping your grass cut, and planting and maintaining new gardens.
By working together and taking pride in our city, we build a better sense of community and a better quality of life for each other.
Greening Nipissing is a not-for-profit registered charity with a mission to educate, promote, and encourage environmentally-friendly practices for individuals, organizations, and businesses in North Bay and area.
Greening Nipissing celebrated its 10th anniversary in 2012 and is a member of Green Communities Canada.
*****