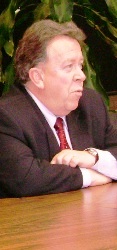 Minister of Northern Development and Mines Michael Gravelle will in North Bay tomorrow (Friday) at 11am to make what a media advisory calls 'A Sustainable Future for ONTC' about the Ontario Northland Transportation Commission (ONTC).
Gravelle will be at the Ontario Northland Bus Garage on Wallace Road for the an important announcement.
BayToday will be tweeting live from the event and will bring you all the details following.