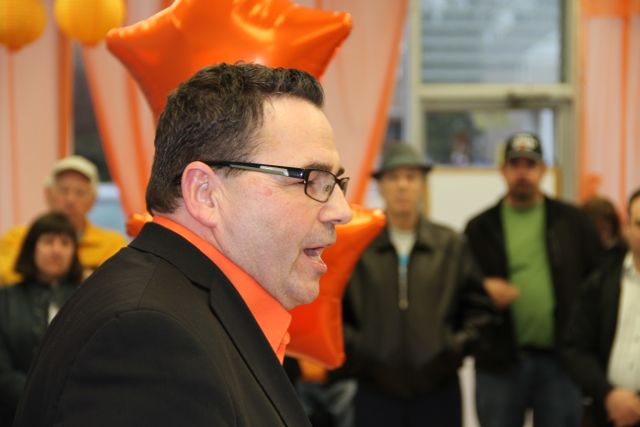 NDP Candidate Henri Giroux speaks to his followers Thursday night. PHOTO BY CHRIS DAWSON.
Nipissing Provincial NDP candidate Henri Giroux spoke to a room full of close to 50 supporters as he opened his campaign office on King Street Thursday night.
In his opening speach, Giroux spoke locally of supporting jobs in the region, specifically at the ONR and the Regional Hospital.
"We need to take back Ontario because it's not our fault, it's the way the government handled everything with the Gas Plants and all the money they are wasting," Giroux said, taking aim at the Liberal party.
Giroux also attacked Tim Hudak's proposed plan to cut 100,000 public sector jobs. He believes that will hurt Nipissing significantly, estimating that will cost the region 1000 jobs.
"We have been losing a lot of good paying jobs and we believe that, that is what we need to do, we need to maintain those jobs and we have a plan for Ontario Northland to maintain those jobs," said Giroux.
"We have a plan hopefully for the hospital where we can increase the funding for the hospital so that they don't lay off those jobs."
However, with the NDP platform not expected to be released until Friday, Giroux didn't elaborate on how he would execute his plan locally for the riding.
The NDP candidate has a challenge to overtake incumbent Vic Fedeli, who would likely have a high profile cabinet position if the Tory government took power.
The man who says he supports the middle class, says he's up for the challenge.
"It's not impossible for an incumbent to be defeated and I feel confident that talking to people before the election started that there's a possibility that we can do that," he said.
Bottom line is the health care worker is hoping the NDP can create the momentum and capture victory in the Nipissing Riding.
"The NDP platform will make life more affordable, easier to make ends meet, help balance the average household budget and put a little something away for the future," stated Giroux in his press release.
"Ontarians know that the status quo isn't working. They know it's time for change. Ontarians want their jobs back; they want a health care system that they can rely upon; and an economy they can depend on, a government they can trust. Ontarians want a government that make sense. NDP is the only party with a commitment to bring these changes to the province." stated Giroux.