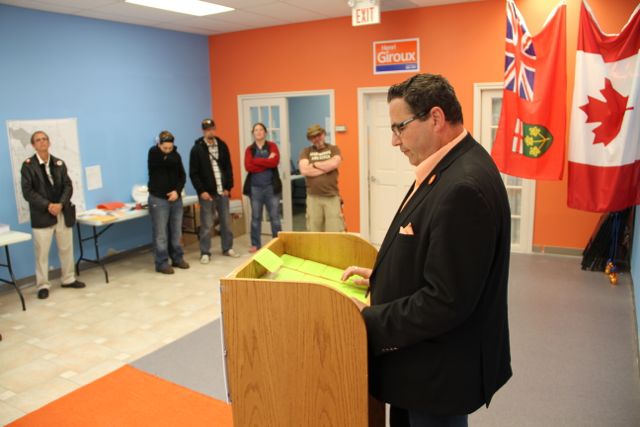 Nipissing NDP Candidate Henri Giroux reads off his 10 NDP Election Commitments from his Campaign office Wednesday afternoon. PHOTO BY CHRIS DAWSON.
Henri Giroux wants his actions to match his words.
So on Wednesday the Nipissing NDP candidate read off 10 commitments that he will make sure are executed during his first 150 days in office if he gets elected on June 12th.
"Nipissing deserves to have an MPP that will deliver in Nipissing and that's what I want to do and I wanted to show Nipissing that I am committed to the riding and I am committed to be your MPP and that I want to show you that I have things that I want to accomplish in 150 days and this is what I am doing," Giroux told the media after his announcement.
In a proclamation style press conference Giroux read off the following election promises:
1. Host a summit for all Mayors in the region
2. Work towards bringing Porter Air service to North Bay's Jack Garland Airport
3. Bring Minister of Health to North Bay to support moratorium on bed closures at the North Bay Regional Hospital
4. Lead a delegation of local business and union leaders to meet with Ontario's Premier.
5. Take HST off of gasoline.
6. Work with Nickel Belt MPP France Gelinas to get a regulation to cap gas pump prices.
7. Work with groups to end the Municipal strike in Bonfield.
8. Go to Ottawa to demand door-to-door mail service continues in Nipissing.
9. Work with Andrea Horwath to restore ONR passenger Rail Service.
10. Hold regular office hours, every Friday in the riding to meet with citizens.
Important Promises
Giroux wouldn't prioritize any of his top 10 first 150 day election promises.
"They are all important that's why I have them all in there because every one of them will bring something to Nipissing so therefore that's why I chose the 10 that I felt that Nipissing needed right now and that I will try in 150 days to make sure that I implement all those commitments that I have," said Giroux.