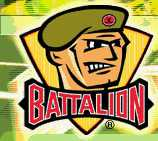 Phil Ercolani, Senior Manager, Marketing, Sales & Communications tells BayToday that tickets have sold out for game seven of the Battalion / Ice Dog playoff series.
He says a couple tickets might become available if Niagara players don't use all of their alloted tickets otherwise the Gardens is packed to capacity.
For folks with tickets for tomorrow (Tuesday) night's game please note that the doors for the public will open at 5:30pm at Memorial Gardens.
Game gets underway at 7 pm.
The city bus shuttle from Northgate pre-game will run at:
6:00, 6:15, 6:30, 6:45pm
Post-game the shuttle will run back to Northgate:
Immediately after game.
BayToday will be live blogging the game for those folks who cannot make the game.