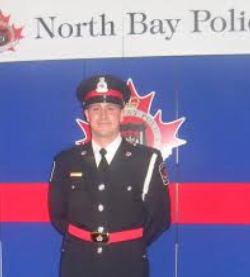 North Bay Police Headquarters was the scene of a celebration on Thursday afternoon, with the swearing in of a new officer.
Constable Christopher Farquhar was proud and elated to be at the centre of the special ceremony, with bagpipes blaring and a parade of flags that helped established him as a fully sworn in officer of the North Bay Police Services.
After the ceremony, Farquhar, 31, spoke about his love of North Bay and how it was only four years ago that he thought about taking policing on as a career in the city.
"My wife and grew up here and we loved the idea of staying in North Bay," Farquhar says.
"The idea of being able to have such a positive influence and impact in the city that I'm from is extremely appealing," he adds.
Spending approximately six months at the Ontario Police College, which entailed enduring the extensive physical and mental training that is required for the position, Farquhar wanted everyone at the ceremony to know how much he missed his family during that time.
Realizing that his wife and kids were the real rock stars in his life and that protecting his family was a top priority, Farquhar knew that he had made the right choice in becoming a police officer.
Having many friends and family in North Bay, Farquhar says that he's honoured to be given the ability to serve the community in which he grew up in.
"I've had the endless support of my family and friends as well," says Farquhar, who adds that he's met a number of people in the service who have been extremely welcoming.
Many people may recognize Farquhar from his involvement in the community with regards to magic (he was a magician for fifteen years), as well as for being an actor in the film and television industry.
Working these avenues has made Farquhar a valuable member of the community, becoming a person that many people know or know of.
Deputy Chief Shawn Devine of the North Bay Police Services, spoke highly of the long and challenging process that Constable Farquhar went through in becoming screened, eligible, and accepted on a personal and physical level, completing all the background checks and the level of skill required.
"It's quite a program to get through to get to this point," Devine says.
He says that Constable Farquhar should be very proud of his accomplishment, noting that he is one of upwards of a hundred applicants who applied to make the force.
Devine says that police recruitment has changed somewhat over the years and that forces are now looking for people with experience and not necessarily youth, with the average new member now in the 30-31 age range, who often carry a fair amount of work experience and most importantly, possess a level of life experiences and maturity that make for today's modern standards of a good officer.
Both Constable Farquhar and Deputy Chief Devine spoke to the concept that he was being adopted into the greater family of the North Bay Police Services, with the high levels of support and respect that the local team of officers bestow upon each other in order to achieve a highly qualified and professional policing system within the city.
"It is a family and just like any family, Chris will find his own way to fit in," Devine says.