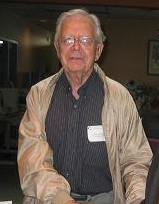 A former mayor of North Bay, Bruce Goulet, is one of only 50 select Canadians and groups to receive a very special honour.
In celebration of the 50th anniversary of Canada's national flag, the Government is giving this proud Canadian symbol to Canadians and organizations who have contributed significantly to the well-being of fellow citizens.
The 92 year old Goulet is being honoured for his community-building efforts in North Bay, including as Mayor of the city from 1971 to 1972.
Goulet is also in North Bay's Walk of Fame.
He moved to the city in 1951 and opened Bruce Office Supplies on Main Street.
Goulet was president of the Chamber of Commerce, then in 1960 he was elected an alderman, deputy mayor and then mayor.
Perhaps his greatest accomplishment as mayor was his idea of the Golden Mile, which eventually became the city's waterfront lands.
In 2008 a sign across from the carousels was dedicated to mark the milestone.
See more at: http://www.pm.gc.ca/eng/news/2015/02/15/national-flag-canada-day#sthash.fp0co0bo.dpuf
.Also among the 50---
The Rotary Clubs of Canada, in recognition of Canadian Rotarians' dedication to "service above self" and their efforts to save mothers and children, provide clean water, support education and fight disease.
The Royal Canadian Legion, in recognition of its work to support Canada's veterans.
Girl Guides Canada, in recognition of the organization's efforts to make a positive difference in the lives of Canadian girls and women.