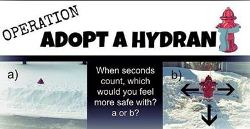 North Bay Fire & Emergency Services
News Release
*****
North Bay Fire & Emergency Services wishes to remind you that in an emergency, Seconds Can Save!
In the winter months, snow accumulations can pose a timely challenge to firefighters.
Please ensure that fire hydrants near your property are cleared of snow accumulations to allow for a faster response from firefighters.
It is also important to check the perimeter of your home to ensure that the gas meter and gas appliance exhaust vents are free of ice and snow.
A blocked vent could result in carbon monoxide problems.
Carefully remove snow from these areas, being cautious not to strike connections which could become loose and be aware of their location when clearing snow from the roof.
Also check exit doors to make sure that they are not frozen shut and easily accessible.
*****