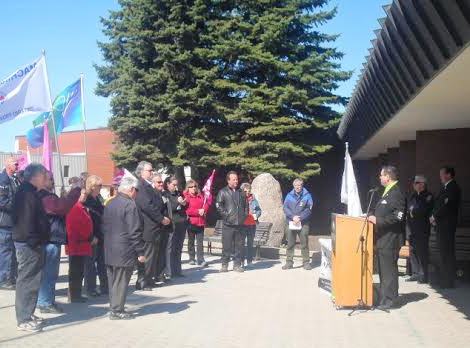 Kill a worker, go to jail.
That is exactly what Henri Giroux, President of the North Bay and District Labour Council of the labour board, wants the situation to be when a worker dies on the job.
Monday, April 28th marks the day of remembrance for all the workers who have lost their lives while at the workplace and, sadly, 342 people in Ontario are registered as a 2013 statistic; a number that everyone feels is far too high.
"Over a thousand people die on the job every year in Canada," says Giroux, "and we believe that there should be more worker protection and laws made to protect those workers," he says.
Giroux points out that his organization will remain vigilant in pursuit of investigations and the implementation of charges for employers that allow workplaces to become deadly.
"The employer's should be charged if there's any criminal investigation done and they should be thrown in jail if there's been prove of negligence," Giroux says.
Saying that since 1982, Ontario has only seen one prosecution of an employer in the workplace for improper handling of a situation that resulted in a death, he and his organization hope to force the government to make hardened decisions against those workplaces where preventable accidents occur.
"If somebody goes and kills somebody on the street, they're almost always automatically charged, they're investigated, prosecuted and thrown in jail" states Giroux.
"When it comes to corporations or employer's it just doesn't happen and we believe that it should happen," Giroux says.
Giroux says that he's happy to represent Canadian workers in this regard and hope that there will be changes within the government to give the injured and killed the respect and memory that they deserve.
"People are dying on the job," he says, adding, "it's not because of their own fault, it's because of something drastic that happens and the people who are responsible should be charged by the criminal code."
Dave Killham, Executive Director of the Worker's Health and Safety Centre, says that, from his point of view, hazards are what cause incidences at work and not employees nor their behaviour.
"It's not about the worker being careless, it's not about whether or not the worker stayed up late the night before, it's about the hazards in the workplace," Killham says.
"It's about these things that should be or ought to be known in the workplace that can create injury, illness and sometimes, death," he says.
Ironically, Killham was relieved by the notion that, as of late, more and more worker injury, disease and death cases have been brought to the public's attention as something that doesn't get pushed aside; rather, talked about and dealt with so that workplaces can improve and remove the hazards to their employees.
"Unfortunately, what we've done in the past is we haven't paid enough attention to worker injury, worker disease and worker death," Killham says.
"I think now that there's more of an outcry and we're taking notice of this carnage," he adds.
With Ontario being a large Province with diverse workplaces involved in everything from mining to police work, keeping employees safe on the job can never be taken for granted and has to be something that employers and workers keep doing.
The workplace in Canada has seen numerous improvements when it comes to safety over the years but at the same time, education and awareness can always make the situation better.
It is also important that Monday be a day of mourning of those who have lost their lives working in the Province, who gave to their community honourably while taking part in the economy in their chosen professions.
The memorial that is erected at City Hall is to remind North Bay residents, employers and employees that those who needlessly lost their lives on the job will always be remembered and that the idea of working in a safe environment should be of the utmost of importance for everyone.
Issues surrounding safety in the workplace are obviously extremely complex, with numerous aspects of design that go into the daily operations, however, these designs must incorporate an environment that gives workers a safe place to be if they to get the job done and not fall within the realm of cutting corners or saving time or money.
This concept has to be reiterated with vigilance because it is often the simplest of items that are forgotten or missed which can cause hazards that can lead to injury or death.
"There's no sector that is absolutely safe," Killham says," but there should be."
Safety in the workplace is everyone's responsibility and on April 28th and beyond, please take the time that is needed to make sure that you're confident that your workplace is safe and that you and others will be able to safely earn a living in Ontario and in Canada.