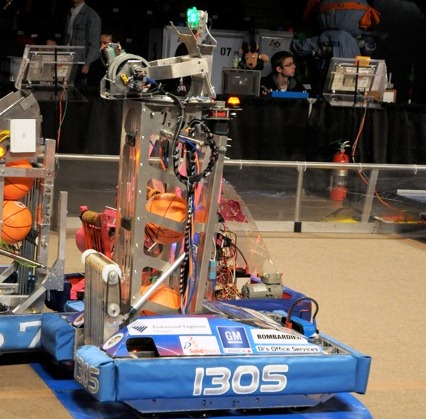 Nipissing-Timiskaming MP Jay Aspin
News Release
*****
Jay Aspin, MP for Nipissing-Timiskaming announced today on behalf of the Honourable Greg Rickford, Minister of State for Science & Technology, of FedNor, and Minister responsible for the Ring of Fire $45,000 to support the National FIRST Robotics Canada Regional Competition.
The FedNor support will enable Nipissing University, in partnership with the City of North Bay, to host the competition in North Bay from March 26-29.
"I am very pleased to see such an interest in robotics growing amongst our youth," said MP Aspin.
"As many know, North Bay is home to several advanced manufacturing businesses in the mining and aerospace industries. There are many great opportunities right here in our region and I am pleased that more of our youth are becoming involved."
FIRST is an international organization that supports robotics competitions for both elementary and high school level students. Established in 2001, FIRST Robotics Canada is an organization created to meet the growing need for student robotics programs in Canada's learning institutions.
The funding announced today is provided through FedNor's Northern Ontario Development Program, which supports projects that promote sustainable community economic development, enhance business development and growth, and facilitate innovation throughout the region.
"Today's announcement builds on our government's commitment to support youth initiatives and skills training," said MP Aspin.
"By helping to attract the FIRST Robotics Competition to Northern Ontario, our government is supporting Nipissing University's efforts to assist students develop life-long skills that will lead to meaningful careers and a stronger economy."
This three-day event will attract more than 1,000 competitors and their families, as well as teachers and mentors to the region. This is the first time the event will be held in Northern Ontario.
*****