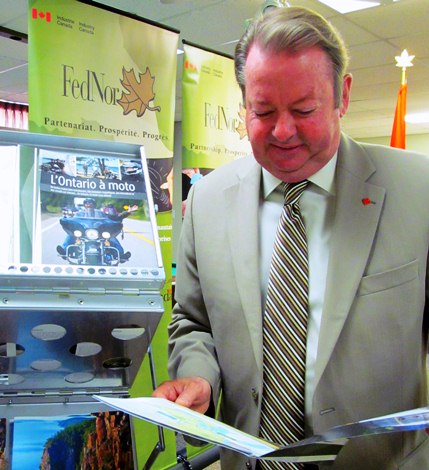 Nipissing-Timiskaming MP Jay Aspin looks at promotional material funded by FedNor and developed by Direction Ontario (a francophone tourism association) that will promote Northern Ontario as a motorcycling destination to the Quebec and Francophone markets.
There is a niche in the tourism market that is ripe for development in Northern Ontario says Nipissing-Timiskaming MP Jay Aspin.
Aspin says motorcycling is a popular pastime that is a growing industry, and while the northeast has tapped into the other corners of the province he says it is time to start attracting our neighbours in Quebec and other points east.
Aspin, who joined officials from the Direction Ontario agency and local regional tourism organizations, was at Centre Culturel Les Compagnons des francs loisirs Friday to announce FedNor funding for a project to do just that – promote the region to the Franco motorcycling communities.
Aspin says the $25,000 investment from FedNor will help drive the economy forward by growing this particular tourism industry which in turn will create jobs.
"Motorcycling for guys and gals is like a second childhood for some," he said.
"It also has a positive impact on economy."
"The investment in Direction Ontario will support this important economic driver and benefit the region's business growth."
Head of Direction Ontario Louise Lacroix (pictured below) agrees that the Franco community be it Quebec, France or other regions is still somewhat untapped.
She says the funding will help develop marketing materials to entice Franco motorcyclists to ride in our region.
"They are waiting for this information to plan their trips."
Lacroix says the materials (brochures and magazines) will be on information stands throughout Franco communities.
Direction Ontario will also use the materials at the tourism trade shows identify attractions and events that would appeal to the Franco motorcycle touring community.
"And we have great ambassadors for that," she says.