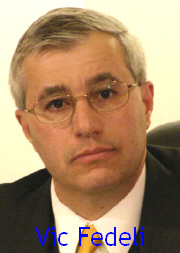 Nipissing MPP Vic Fedeli
News Release
*****
Nipissing MPP Vic Fedeli is demanding an apology after the Standing Committee on Estimates has found in Fedeli's favour regarding the false accusations made by the Liberal government that confidential documents were improperly released.
Despite numerous Liberal stall tactics, the Committee's Clerk verified on Tuesday that documents Fedeli referred to in the Legislature on March 18, 2014 were indeed public documents.
Committee Chair Michael Prue stated in Committee that it was his opinion there was "no breach" of privilege that could have led to a contempt charge as had been alleged by the Government House Leader.
"This was nothing more than another public Liberal smear campaign and personal attack against me and my reputation," said Fedeli
"This flies in the face of the Premier's own words regarding personal attacks, which are nothing more than doublespeak."
Fedeli said he and the Ontario PC caucus won't stop their pursuit of the truth when it comes to what the Wynne government is hiding regarding the state of Ontario's finances.
"We're redoubling our efforts to find out what exactly it is that they're so afraid that we'll find in those documents."
*****