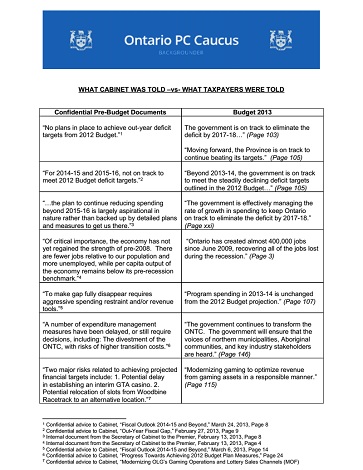 Nipissing MPP Vic Fedeli
News Release
*****
New internal documents show not only does the Wynne government have no plan to balance the budget by 2017-18 as they claim, but is in fact facing a $4.5 billion shortfall, said Nipissing MPP Vic Fedeli, the Ontario PC Finance Critic.
The Ministry of Finance documents from 2013 are at the heart of the latest Fedeli Focus on Finance, a watchdog newsletter that looks at Ontario's Finances.
A key secret Ministry of Finance document states "For 2014'15 and 2015-16, not on track to meet 2012 Budget deficit targets."
"The Premier and Finance Minister need to explain why they're insisting on one thing to the Legislature, the financial community, and to the public, when their own internal documents say quite another," Fedeli said, who added this helps to explain why the mid-year fiscal outlook wasn't included in the Fall Economic Statement, and why the Minister is withholding the province's Third Quarter finance report.
"This is the gas plant cancellation scandal all over again when they tried to tell us it would cost only $40 million, when we said all along it was closer to $1 billion, a figure finally confirmed by the Auditor General."
One of the most disturbing findings in the documents is that when presented with a multi-billion dollar shortfall at their Cabinet retreat last March, they actually enlarged the shortfall by $900 million at that meeting, Fedeli noted – coincidentally, the same value of the concessions the government made to the NDP to ensure passage of the 2013 budget.
"This raises very important questions, such as did the government and NDP already have a budget deal in place in March last year, if not earlier? Fedeli asked.
"Do they have a similar deal already done this year?"
Another key discovery is a document stating the government is looking at "no funding for incremental compensation increases for new collective agreements."
"This was blacked out in many documents but left exposed in one. Why don't they want their public sector union partners or the public to know that this is what they're intending to do?" asked Fedeli.
These internal government documents confirm that the Premier and Finance Minister have no plan to stop their Greek-style accumulation of debt, despite the risk it poses to core frontline services like health care and education, Fedeli added.
"This is irrefutable proof that this government can't be trusted, and why it's time to change the team that leads this province."
*****