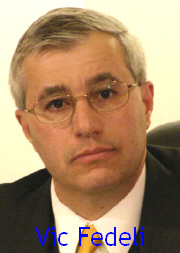 Nipissing MPP Vic Fedeli
News Release
*****
Nipissing MPP Vic Fedeli is once again soliciting feedback on key issues from small business owners in the riding through a new survey.
The online survey is now available to members of the North Bay and District Chamber of Commerce through their website and their weekly electronic newsletter.
A link to the survey for the general public will also be made available at www.fedeli.com .
"As a former business owner, it's important to hear from businesspeople in Nipissing to ensure we identify and fully understanding their concerns, and voice them at Queen's Park," said Fedeli.
Fedeli noted that through the pre-budget hearings held across the province in January by the Standing Committee on Finance and Economic Affairs, of which Fedeli is a member, that high taxes, soaring energy costs and burdensome red tape were common themes among the presenters.
"It's my hope that this survey will provide some feedback on those and other issues that are of concern to businesses in Nipissing," Fedeli said.
"Small business is vital to the local economy, and if a small business is able to succeed, profits can be reinvested to help that business grow and hire, and our economy benefits as a result."
*****