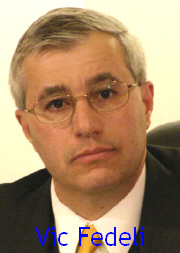 Nipissing MPP Vic Fedeli
News Release
*****
QUEEN'S PARK – Ontario's Finance Minister needs to provide serious answers to serious questions on the minds of the residents of Nipissing, MPP Vic Fedeli demanded today.
Charles Sousa is scheduled to hold an invitation-only meeting disguised as a budget consultation at Nipissing University tomorrow.
"The Minister needs to tell residents of Nipissing how he plans to address the hole in his budget left by the Liberals' flawed fire sale of Ontario Northland," said Fedeli, who will be taking part in the actual public budget consultation organized by the Legislature in North Bay next Wednesday.
Secondly, the Minister needs to explain how he expects Northerners to either accept or afford a 10-cent-a-litre provincial gas tax hike to fund Toronto transit while at the same time abandoning Northern transportation needs, Fedeli continued.
"I've done the math, and to reach the revenue targets proposed by Kathleen Wynne's transit panel, the Liberals would have to raise the gas tax province-wide. The Wynne panel report actually uses the phrase province-wide eight times, so to insist that this isn't the Liberal plan is flat-out dishonest."
Fedeli also thinks the Minister should explain to Northerners already hard-pressed to pay their hydro bills about his role in the gas plant scandal, which will send those bills even higher.
"Will Charles Sousa tell residents of Nipissing why his job and his Mississauga seat was worth the Liberals shelling out $1.1 billion in taxpayer and ratepayer dollars as if they were their own?" asked Fedeli, who conceded he doesn't expect much in the way of answers.
"Sadly, the Minister doesn't like responding to questions because his answers reveal that his government has absolutely no plan to create jobs, kickstart Ontario's struggling economy, or get our finances under control and back on the path to balance," said Fedeli.
"Today, Tim Hudak laid out the Ontario PC five-point Million Jobs Plan. Given the dismal employment numbers released Friday and the fact he's been on the job for almost a year now, why hasn't the Minister tabled a jobs plan?
*****