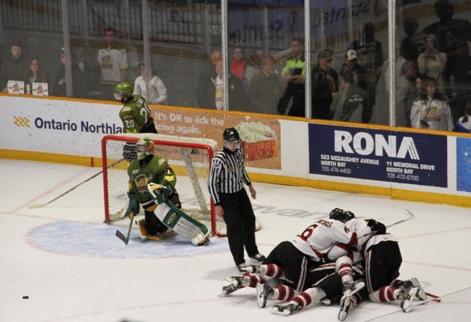 Guelph players Storm on top of Brock McGinn who scored the game winner with less than 11 seconds left in regulation. PHOTO BY CHRIS DAWSON.
The Guelph Storm scored two goals with just 30 seconds remaining in the game for a 4-3 come-from-behind victory over the North Bay Battalion Tuesday night at Memorial Gardens.The win gives the Storm a 2-1 lead in the series.
Despite being out played and out skated all night, the Troops found themselves with a 3-2 lead with just 30 seconds left and an empty Storm net.
Then the roof fell in.
"I thought that was definitely their (Guelph's) best game of the series," said Battalion head coach Stan Butler at a news conference after the game.
"But any time you have a lead in the last minute, you can't let it slip away and unfortunately, tonight we did that," he added.
The Storm came out of the gate fast and had the Troops on their heels for much of the first period, but it was the Battalion's Matt Santos that opened the scoring 14 minutes in.
The home team dodged a bullet in the second period as the Storm poured it on, tieing the game midway in the second on Tyler Bertuzzi's (nephew of NHLer Todd) 9th goal of the playoffs.
But despite being greatly outplayed, North Bay's Barclay Goodrow scored his 13th to escape the period with a 2-1 lead.
A power play goal by Guelph's Robby Fabbri tied it at 2-2, before defenceman Dylan Blujus added his 4th of the playoffs to set the table for the stunning last minute collapse.
With Storm goalie Justin Nichols pulled for an extra attacker, Zach Mitchell scored with just 30 seconds remaining to tie the game up.
Then, just 20 seconds later, Brock McGinn, hammered the nail in the coffin as the Battalion looked dazed and confused after the Mitchell goal.
"The way you lose games, sometimes they're harder than others," said Butler.
'But a loss is a loss and we don't have a whole lot of time to dwell on it. Basically we've gotta have Alzheimers right now and not have a very good memory and go from there."
Quickly forgetting the defeat may be the best strategy for the Troops who will face off again Wednesday at 7 p.m. at the Gardens.
"It's a tough one to swallow," admitted defenceman Marcus McIvor.
Video highlights and post game reaction below, courtesy Chris Dawson and Lindsay Sarazin: