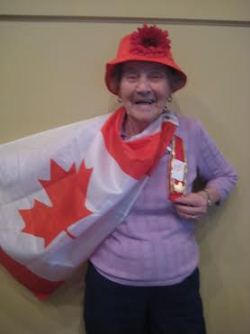 June MacDonald, resident at The Empire, does her part to show her Olympic spirit.
The Empire
News Release
*****
You can bet that June MacDonald, a resident at The Empire, will stand ahead of the crowd when it comes to community support.
Since the 2014 Winter Olympic Games kicked off last week, there has been no shortage of enthusiasm for her and others at The Empire, North Bay's landmark Retirement Residence.
June has been wearing her Canadian flag as a cape, and ribbons which she regularly updates with our medal count.
She's made it her mission to rally support for our Canadian athletes & to make it fun for her fellow residents.
Rather than watch the events in their own apartments, many residents have chosen to join together and watch on the large screen in The Empire's Regency theatre.
*****