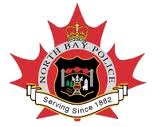 Police say a drunk thief broke into a home on Tackaberry Drive around four o'clock this morning and grabbed keys to a car, which was parked outside.
The man then stole the vehicle and later crashed it into a parked vehicle trailer in the 1000 block of Copeland Street.
The car suffered severe front end damage and is a write-off, but nobody was injured as a result of the collision.
An eyewitness saw the crash and called 911.
The man then fled from the stolen vehicle, but city police were fleeter afoot, and cuffed the crook on the 700 block of McIntyre Street after a brief chase.
As a result, North Bay Police charged David Daley-Dempsey, aged 19, of Lakeshore Drive on several counts including break and enter, theft over $5000, impaired driving, and failing to stop at the scene of an accident.
Constable Doug MacIntosh is continuing the investigation.