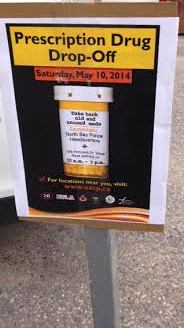 Folk' looking for a safe anonymous way to dispose of any unwanted or outdated prescription medications today is your lucky day as the city police are participating in Prescription Drug Drop-Off Day till 3pm today.
Prescription Drug Drop-Off Day is a province-wide initiative that offers residents a safe and environmentally-friendly manner to offload meds they no longer have a need for.
Residents can take advantage of the drive through drop off by stopping by the rear parking lot of the North Bay Police Service Headquarters at 135 Princess Street West until 3 pm today, Saturday May 10th.
Can't make it to the police station today don't fret you can return prescription drugs to any local pharmacy all year round.
Police spokesman Al Bedard reminds the public that selling or buying prescription drugs is a crime.
He says that the local service is seeing more and more break and enters where prescription drugs like opioid pain relievers such as oxycodone and Fentanyl, anti-depressants, and stimulants are the thief's product of choice.
He says folks need to remember that under the Controlled Drug and Substances Act (CDSA) prohibits anyone from possessing oxycodone or any other prescribed medication without a prescription.
As well city police remind everyone that it is a criminal offence to offer or sell a medication that was prescribed to you to another person. Purchasing another person's prescribed drugs is also illegal. Prescription drug misuse is the use of prescription drugs for non-medical purposes.
Officers also say parents need to know that studies show 24 per cent of teens reported misusing prescription medications at least once within the previous year.
Most of the teens took the medication from their family home.