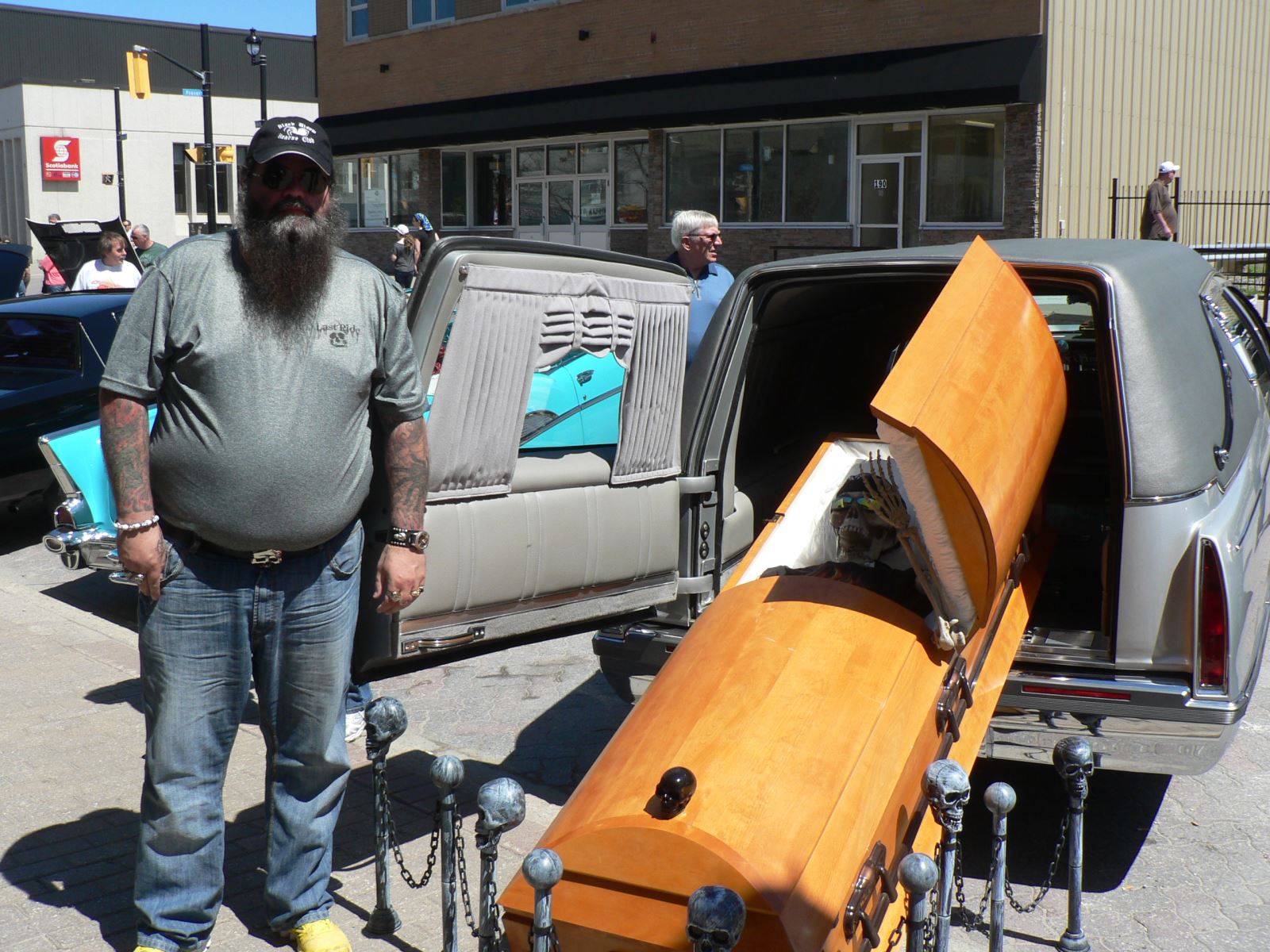 Shawn "Skull' O'Brien of Sudbury shows his 1995 Cadillac Fleetwood at the Cruisin' Downtown Car and Bike Show Saturday. Photo by Jeff Turl
The 1995 Cadillac Fleetwood was drawing large crowds and lots of questions for owner Shawn "Skull" O'Brien of Sudbury.
He got his nickname because he paints skulls on everything, including his motorcycle. He has a skull tattoo.
His entry into the Cruisin' Downtown Car and Bike show is decked out to resemble a hearse, complete with skeleton and coffin.
"I've wanted one since I was 12," he tells Baytoday. "It's so unique and different, everything is custom."
O'Brien bought the car just last August for $6,000, but estimates its worth around $22,000 with all the work he's had done to it. " and I have lots more plans for it," he grins.
O'Brien loves the atmosphere of the downtown car show. "This is my first year, but I'll be back every year. There's lots of different cars"
That's exactly what Downtown Improvement Area Executive Director Jeff Serran loves to hear.
"It brings a lot of memories back to people" he explained while keeping things organized on a busy, blocked off Main St.
" I've heard a lot of people say they remember their grandfather having a car like that."
"It's the memories, the things that make you proud to live in the city of North Bay and how our community comes together."
And car owners are coming from all over, says Serran.
"We have at least 30 from Sudbury, we have a couple from Quebec, from Southern Ontario and a few from the Ottawa Valley, so this is our best so far."
This year the Papa Joe Memorial Motorcycle Ride roared down the main drag, 400 motorcycles of every style adding to the excitement.
Further down the street Sylvia Gethons-Greer of Burks Falls fiddles with the antique jukebox that sits atop the hood of her 1957 baby blue Chevy.
"I bought the jukebox in Florida, but now it's hooked up to a Walkman," she explains patiently about mixing old with new technology.
"But I love the '50's. It was so much less complicated than now," she smiles.