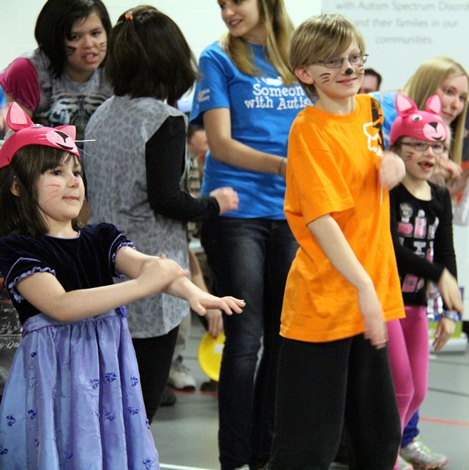 Members of PLAYS, Autism Ontario North Bay and community members try to answer the age old question "What Does The Fox Say?" during World Autism Day celebrations at One Kids Place on Wednesday.
Members of Autism Ontario North Bay Chapter joined their counterparts from across the country to raise the flag Wednesday in support of autism awareness.
Passionate parents of kids with Autism Spectrum Disorder (ASD) and community members attended a flag raising ceremony at city hall in the morning followed by a celebration of song, dance and art at One Kids Place in the afternoon.
Michelle Webster, Founder of Cando Kids Theatre Co. and mother of two children with ASD, did not attend the celebration and sums up how plans can quickly be derailed for a family living with ASD.
"Here I am at the end of my day, This World Autism Day reflecting. So many inspiring stories and great words from hard working parents … for the Webster's today was a challenge. Autism threw its best at us and unfortunately it wasn't the celebration I had hoped for," She notes.
"In spite of the challenges, I am left with the message of my day ... THIS is why we so need support from our community, friends and family. Don't let all the inspiring happy stories fool you, this is HARD WORK!"
"I think for families like mine that really struggle to find the positive lining during days when the Autism wins, we may give the impression that we are managing but this is a life long struggle and having the awareness for our kids, teens and adults is such an integral part of getting through this journey. Awareness means not jumping to conclusions when you see a child melting down in the mall, it means welcoming kids with ASD in your child's classroom, it means respecting the diagnosis, but defining a person by it."
"AND I BEG YOU … if you know someone that suspects their child has Autism, SUPPORT them and their instincts. Lost time is the worst thing that can happen to a child with Autism."
President of Autism Ontario North Bay Chapter echoed Webster's concerns noting that there are many facets to the spectrum and education and awareness is paramount in helping lives of Autistic kids and families that much easier.
She says government funding will play a vital role as Autistic children age and integrates in society as an adult.