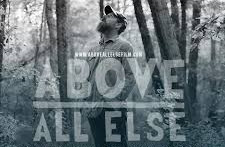 A group of North Bay residents concerned with the risks to the City's drinking water posed by TransCanada's proposed Energy East project is hosting a documentary about East Texans' experience with an earlier TransCanada project.
The screening will be a feature presentation of the Doc North Film Festival in North Bay this weekend.
Stop Energy East (North Bay) will sponsor the documentary "Above All Else".
The film documents the people of east Texas who stood up to TransCanada and an urgent call to action on TransCanada's Energy East Project.
The screening will be followed by a discussion of the film and the experience of the landowners along the Keystone XL pipeline.
TransCanada's proposal is to convert their mainline natural gas line through Nipissing District - and the Trout Lake watershed - to make it a carrier for crude oil and diluted bitumen from Alberta's tar sands.
"I can't wait to see this account of ordinary people standing up against a big pipeline company that threatens the land they love..sounds pretty familiar!", said local organizer Donna Sinclair.
Tickets are $6 and are available in advance or at the door. The screening is at 4 p.m., Saturday,November 15th at the Capitol Centre.