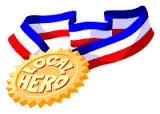 North East Community Care Access Centre
News Release
*****
"A hero is an ordinary individual who finds the strength to persevere and endure in spite of overwhelming obstacles."
They are family members, friends, neighbours and community volunteers. They are nurses, care coordinators, personal support workers, therapists and social workers.
They are HEROES IN THE HOME – women and men who provide direct care, or help someone exercise to stay mobile, or shovel the sidewalk, or simply share a friendly visit.
The North East Community Care Access Centre is proud to celebrate these individuals who are making a big difference in the lives of others.
If you know a hero or have one in your life – someone who makes it possible to live more comfortably and independently at home – why not nominate him or her for a 2014 Caregiver Recognition Award?
All nominees will receive a certificate of recognition during a special public reception in your region.
This month our campaign has moved to Parry Sound and North Bay, with local award ceremonies slated for Tuesday, March 25th and Wednesday, March 26th respectively.
All nominees will receive a certificate of recognition.

Nomination forms are now available on our public website, healthcareathome.ca/northeast , and will also be distributed to our service providers, health partners, older adult centres and community centres.
Completed forms can be submitted via mail, fax, email or by phone to Micheline Groulx.
Please see the nomination form for contact details.
Sometimes even the smallest gestures can make a huge difference, and we believe that there is no time like the present to salute the people who make that difference, day in and day out.
Deadline for nominations in Parry Sound and North Bay is Friday, February 28th, so nominate your HERO today!

*****