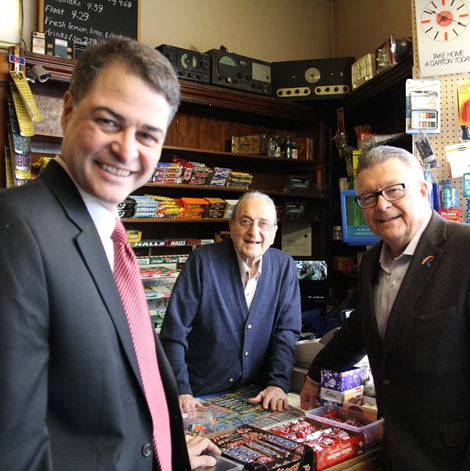 No visit to North Bay by a Liberal is ever complete without dropping by Demarco's Confectionery for some sage advice from Tony Demarco (c). MP Ralph Goodale (r) is no exception so Anthony Rota (l) took the Deputy Leader of the Liberal Party of Canada in for the visit.
Liberal MP Ralph Goodale is in North Bay today for a number of meetings that include talking with Mayor Al McDonald, local bus drivers and of course meeting with local party faithful.
Goodale, a former lawyer and broadcaster and current Deputy Leader of the Liberal party, put forth a private members bill that addresses the issue of safety and the protection of public transit drivers during the course of their duties, will talk with local transit drivers to hear what issues they face daily.
"This has become a serious local issue and lots of municipalities across the country, in fact every year in Canada there are more than 2,000 incidents of violence, assaults, or abuse directed toward public transit operators most of them bus drivers," he tells BayToday.
"And that's just an unacceptable statistic."
Following a chat with transit drivers Goodale will then meet with political students at Nipissing University to talk about the history and future of Canadian politics and then wrap up the day with a fundraiser at the Clarion Resort Pinewood Park.
"We are pleased that Ralph Goodale is able to join us as our special guest for our local fundraiser", stated Bill Hagborg, Nipissing-Timiskaming Federal Liberal Association President.