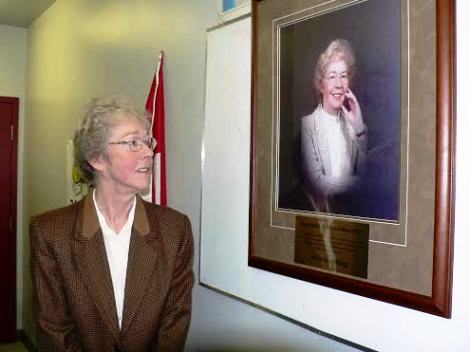 Delia Gray looks at her portrait, revealed Friday to honour her as the College's first Dean. A new wing of the college has been named in her honour. Photo by Jeff Turl
A new wing of North Bay's CTS Canadian Career College has been named in honour of its first Dean, Delia Gray.
"It's a really emotional day," Gray said during the dedication ceremonies. " I really looked forward to coming back and seeing everybody. It's a great place."
Among her achievements Gray was instrumental in developing course content and gaining the approval of the Ministry of Colleges and Universities for the initial diploma-level programs offered in 1984 by CTS Canadian Career College.
"I have lots of favorite memories. I was here when there were a lot of interesting things going on, and I got the opportunity to do some things for education and try to set better standards."
Carlos Carvalho, CEO and founder called her contribution "critical" to the foundation of the college.
"She was absolutely key for me in my transformation from business thinking to educator," he told an audience of about 40 people gathered to honour Gray and watch as a painting of her was revealed.
Now retired, Gray started her career as a nurse and later taught nursing students at the community college level and the hospital in Thunder Bay.
She relocated to North Bay after her husband Peter was transferred here.
While here she took a computer upgrading course offered at CTS Training Academy.
Her teaching background led to a training position with the Academy, and when the Ontario Business College collapsed she found herself playing a key role in the newly formed CTS Canadian Career College.
The College has branches in North Bay, Sudbury and Barrie and has 700 students, 180 of which are enrolled locally.
Carvalho estimates six thousand students have graduated since the college opened its doors.
A celebration of its 30 years in business will take place Saturday.