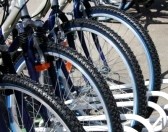 OPP News Release
*****
WEST PARRY SOUND – The West Parry Sound Detachment of the Ontario Provincial Police (OPP) would like to remind the public that several people are out riding their bicycles now that we are having some mild weather.
When riding your bicycle you need to remember the rules of the road. Safety is about making choices. To make good choices, you need to understand how traffic works and how a bike fits in.
Cyclists must obey all traffic laws and they have the same rights and responsibilities as drivers.
A bicycle is a vehicle, the same as a car or truck. Riding on the road means riding with other traffic and this is only safe when everyone follows the same rules.

Here are some sections of the Highway Traffic Act that apply to cyclists:
Traffic signals and signs
Bicycles travel at a lower speed. Remember that slower traffic stays to the right and must give way to faster traffic when it is safe and practical.
No riding in crosswalks
Stop for school buses when upper alternating red lights are flashing
Assure that you have reflective lights, a bell, brakes
A cyclist must stop and identify themselves when required to stop by police for breaking traffic laws.
Passengers are not allowed on a bicycle designed for one person.
You are not allowed to "hitch a ride" by attaching yourself to the outside of another vehicle.
Cyclists should be aware of surface hazards as most of your riding is done close to the curb.
You will encounter holes, raised areas and depressions, loose surfaces, and sometimes sharp objects.

As a parent you have a responsibility to ensure that your child has the proper safety equipped and they use it.
Every cyclist must wear an approved helmet if they are under 18 years.
Parents and others need to remember that when you are riding your bicycle there will be those that are younger than you watching your every move. You set the example.
For more information contact your local detachment of the Ontario Provincial Police at 1-888-310-1122. Visit the Ministry of Transportation website for more information: www.mto.gov.on.ca
*****