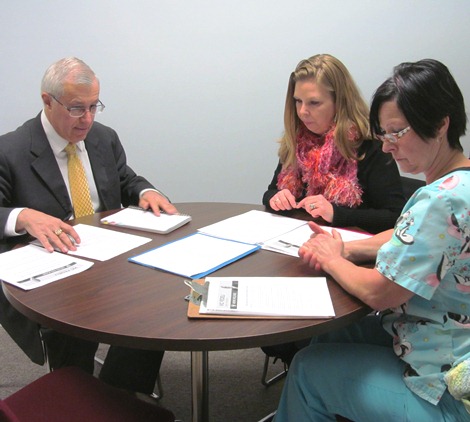 Late Friday afternoon CUPE members of the Health Care Workers Coordinated Committee called on Nipissing MPP Vic Fedeli to solicit his support with CUPE's effort to have the province pass a bill that would enforce a standard of daily care for long term care home residents.
Area 6 representative, Amanda Farrow-Giroux says the 'Time to Care' campaign calls on legislators to mandate at least four hours of daily, hands-on care for residents the law and by doing so quality of life and care for the more than 77,000 long term care residents, province-wide would improve dramatically.
"The goal is to get 77,000 signatures on our petitions. That's one signature for each of the people who reside in a nursing home in Ontario." stated Farrow-Giroux.
They note that since 1992, the complexity of care needs of Ontario's LTC residents – the majority of who are 85 years of age or older – has increased significantly.
73 per cent of residents have some form of Alzheimer's or dementia and most need help with feeding, bathing, toileting and getting out of bed.
"Yet Ontario funds LTC at a lower level than just about any other Canadian province. The result of provincial underfunding is, that there isn't enough staff to provide residents with the care time they need each day to live with dignity in Ontario nursing homes." stated Henri Giroux North Bay CUPE Council President.
Fedeli, who was unaware of CUPE's effort, welcomed the petition and promised to address it at Queen's Park in the coming weeks.
"They have a legitimate issue here only two days ago in the legislature Christine Elliot the PC health critic called in the auditor general to do a value for money audit of the CCAC in how the money is issued," Fedeli explains.
"There is an absolutely disproportionate amount of money spent on administration and management as opposed the frontline workers."
Fedeli says a good first start to addressing shortfalls in frontline care is doing away with LHINs.