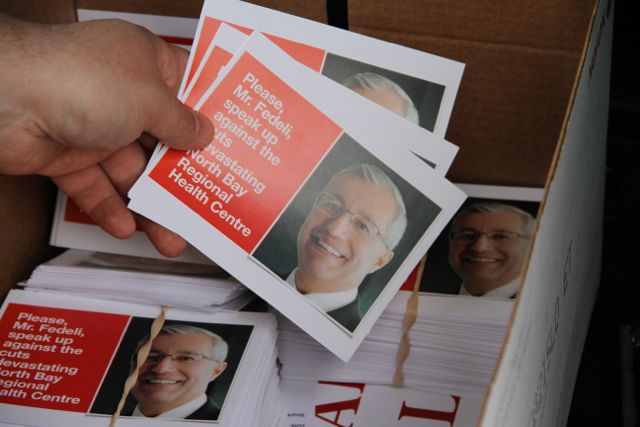 Local CUPE President Shawn Shank, holds up some of the many Fedeli postcards which are expected to be signed and delivered to the incumbent MPP's office. PHOTO BY CHRIS DAWSON.
The Canadian Union of Public Employees is looking for support from their incumbent MPP.
But according to Vic Fedeli, they already have it.
The Union spoke out Thursday about concerns of pending bed closures at the North Bay Regional Health Centre and unveiled a post card campaign asking incumbent Tory Candidate Vic Fedeli to speak up against those cuts.
"We want him to show that he can be there for us and talk to us," said Local 139 CUPE president Shawn Shank, who was joined by the president of the Ontario Council of Hospital Unions Michael Hurley for a press conference on Lakeshore Drive Thursday.
"It's just hard because they aren't the party in power so I'm not sure what he can do but it would be nice if he would voice our concerns," said Shank.
The more than 1,000 CUPE workers at the regional hospital, are being urged to sign the post cards which Shank says will be delivered to Fedeli's office.
CUPE also criticized Fedeli for spending too much time in Southern Ontario during the election campaign, when they believe he should be in his own riding dealing with local issues like the hospital bed cuts.
However, Fedeli actually applauds CUPE for recognizing the problem.
"CUPE is late to the game," said Fedeli in an interview Friday morning with BayToday.ca
"I've been talking about this for 6 months in the legislature, ever since the 40 nurses were let go. Nobody in the Liberal Party, including the Minister of Health will answer me, they just chuckle," added Fedeli.
"I'm grateful they are joining my fight."
Fedeli adds that if the Conservatives win the June 12th election they will ensure that the Health Ministry is the only one that receives an increase in support while other Ministries will see reductions.