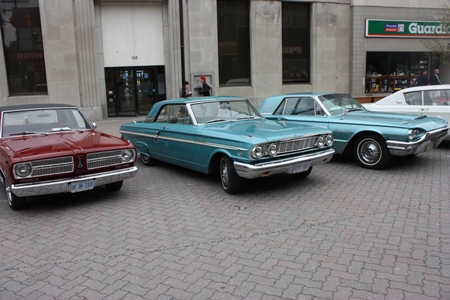 File photo
Downtown North Bay
News Release
*****
Downtown North Bay would like to invite you to our 6th Annual Event- Cruisin' Downtown in North Bay, Ontario.
This year's event is happening on Saturday May 24th from 10 am-4 pm.
As well we are happy to report that Jim Kenzie from TSN's Motorin' will be returning with his expertise and a new vehicle to display.
Check out the following sites for Jim: www.motoringtv.com/jim-kenzie-s14159 and www.jimkenzie.com
Last year motorcycle and special interest car enthusiast joined us on the Streets of Downtown North Bay.
This year we would like to see you!
This year there will be more trophies and prizes awarded for the various categories.
This is a NO CHARGE event to the PARTICIPANTS and a NO CHARGE event to the PUBLIC.
There will be entertainment throughout the day and downtown businesses will be open with food specials for breakfast lunch and supper, as well as promotions throughout the stores.
We look forward to seeing you on Saturday May 24th at CRUISIN' DOWNTOWN 6.
For more info or to pre-register for this event go to our website www.downtownnorthbay.com email us at dia@on.aibn.com or contact Events Coordinator Intern Mallory Chaput or Executive Director Jeff Serran 705-474-7824.
*****