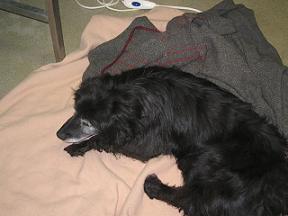 The North Bay Police Service, in partnership with other police services across the province, is supporting Ontario SPCA's Operation V.A.L.U.E.
Operation V.A.L.U.E (Vulnerable Animals Left Unattended Everyday) is a crime prevention initiative to raise the public's awareness to the dangers of leaving pets unattended in locked vehicles, especially as we head into the hot summer months.
Cruelty to Animals is a Criminal Offence
The public is reminded that permitting distress to animals, and causing them unnecessary suffering, neglect or abandonment are criminal offences under the Criminal Code of Canada. A person can also be charged under Ontario's Highway Traffic Act for an insecure load (such as a loose dog in the back of a truck) or careless driving (such as a dog on the lap of a driver).
Distress
Distress is the state of being in need of proper care, water, food or shelter or being injured, sick or in pain or suffering, or being abused or subject to undue or unnecessary hardship or neglect.
About Dogs
A dog's normal body temperature is 39°C and a temperature of 41°C can be withstood only for a very short time before irreparable brain damage or death may occur. Signs of heatstroke include: increased heart rate; excessive panting or drooling; listlessness; confusion or disorientation; bright red gums; vomiting or diarrhea; collapse, seizure or coma.
What To Do
If you find an animal left unattended in a locked vehicle in obvious signs of distress, please call 310-SPCA or North Bay Police at 704-472-1234.
More Information
Ontario SPAC's website contains added information on Operation V.A.L.U.E., including a program brochure, an ideal doghouse brochure, a link to the No Hot Pets Campaign Website, and, because leaving an animal in a vehicle in winter is not a good idea either, a cold weather safety tip sheet.
Campaign decals that can be stuck to your vehicle's window to raise public awareness, as well as the campaign brochure, are available for free in the lobby of the North Bay Police Service's headquarters at 135 Princess Street West.