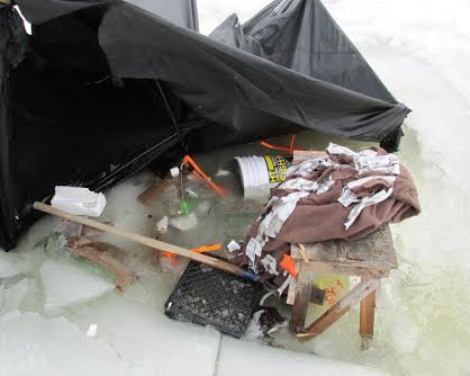 Near North Crime Stoppers
News Release
*****
Near North Crime Stoppers and the Ministry of Natural Resources are asking for the public's assistance to report any individuals who have left garbage or debris on Lake Nipissing after removing their ice huts.
Full size barrels, milk crates, plastic pails, large chunks of wood, plywood, tarps, metal, shopping bags and plastic cups are only a few of the items observed left behind on the ice. This is a re-occurring situation that needs to be addressed.
Large chunks of wood may not be hazardous to the lakes ecosystem but will be a severe navigational concern when boating season begins.
The occurrences seem to be spread across the entire lake.
The health of the Lake Nipissing Ecosystem is the responsibility of everyone.
Anyone with information on resource violation on Lake Nipissing or any other crime is asked to contact Near North Crime Stoppers:
• Call 1-800-222-TIPS(8477)
• Submit TIP online at www.nearnorthcrimestoppers.com
• Text 'Nipper' and TIP info to CRIMES (274637)
Remain Anonymous and earn cash reward of up to $2000
*****