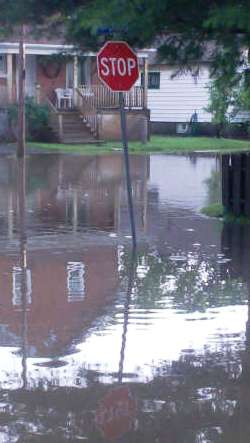 North Bay-Mattawa Conservation Authority
News Release
*****
Two weather systems bringing in rain over the next 36 hours, with heavy rain expected tonight and Monday, has prompted the North Bay-Mattawa Conservation Authority to issue a second Watershed Conditions Statement – Flood Outlook this weekend.
This is not a flood watch or warning, but an advisory statement about the current watershed conditions and the weather forecast for the next 36 hours.
The current low pressure system and warm front will continue to bring precipitation to the area into the evening with temperatures remaining above zero until early Monday.
After this current system moves into Quebec tonight, we'll have a short break from the rain until a second low pressure system moves into the North Bay area.
This second system will bring with it more rain that will be heavy at times.
The rain will continue through Monday resulting in an increase in stream flows throughout the watershed.
"It is possible that the North Bay area will receive between 30-60mm of rain before a cold front moves through late Monday afternoon. With temperatures dropping to -3 ˚C by Monday afternoon, we'll see the rain turn to snow and up to 2 to 4cm of snow is expected," said Susan Brownlee, NBMCA's Regulations Officer.
The rain and above-zero warm temperatures forecasted over the next 36 hours will cause continued melting of the snow pack.
"If the area receives the higher amount of forecasted rain, we can expect flooding in low-lying areas. The fact that the ground remains frozen and/or saturated will increase the risk of flooding in problem areas as the ground won't be able to absorb the excess water. On top of it, there is an added risk of ice jamming in streams where ice is still present," she added.
"NBMCA will continue to monitor the weather and developing watershed conditions overnight and provide an update Monday," added Brownlee.
All residents, especially those in low lying areas, are encouraged to monitor the conditions that are developing.
Banks adjacent to rivers and creeks are very slippery at this time and when combined with cold open water, pose a serious hazard.
Parents are encouraged to keep their children and pets away from watercourses and off water bodies that have unstable ice conditions.
Municipalities are encouraged to monitor water crossings to ensure the continual movement of water through culverts and bridges.
A close watch on local conditions and updated forecasts and warnings from Environment Canada is also recommended.
Monitoring weather and flood conditions is a shared responsibility of Conservation Authorities, Ministry of Natural Resources (MNR), and Environment Canada.
When flooding is possible or about to occur, NBMCA issues flood messages to municipal emergency management officials and the media. The municipal officials then take action to warn local residents.
Flood forecast messages enable the municipalities to prepare for, track and manage local flooding.
Advance warning by NBMCA provides municipalities with the opportunity to put emergency plans into operation, evacuate communities if necessary, and secure property in areas that are more likely to flood.
NBMCA advises the general public through the www.nbmca.on.ca website with the flood status icon and a link to information about current conditions.
NBMCA also issues these messages to the public through local media, twitter @the NBMCA and on facebook.com/NBMCA.
The public is invited to submit photos of any watershed conditions to twitter @theNBMCA or email nbmca@nbmca.on.ca.
A close watch on local conditions and weather forecasts from Environment Canada is also recommended. Environment Canada bulletins can be found at http://weather.gc.ca/ Other information is available on the Surface Water Monitoring Centre public webpage: www.ontario.ca/flooding.
*****