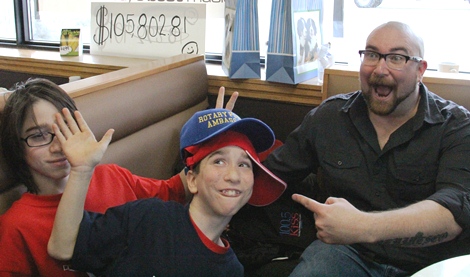 Twin Ambassadors, Dominque and Issac Dube wrap up the Longest Morning Friday with Radio host Big Mike.
Following a gruelling 53 hours on the air with hosts Kevin and Big Mike the Longest Morning fundraising event in support of Rotary4Kids and NADY wrapped by doubling their goal.
With pledges still coming in the DJs signed off air Friday morning at 10am from Burger World on Algonquin by announcing they had raised a record $106,300.
The goal again this year was $1000 an hour for 53 hours.
This was the 12th year the Rotary Club of North Bay has organized the radio-a-thon in partnership with the Nipissing Association for Disabled Youth (NADY).
All the funds raised stay in the community and go towards supporting local children and youth with special needs, largely through Rotary's partnership with One Kids Place and NADY.
Pledges can still be made online at www.rotary4kids.ca .