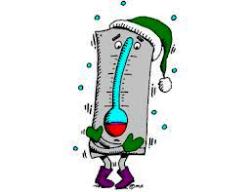 City of North Bay
News Release
*****
A cold weather alert has been issued for the City of North Bay.
It will be in effect until tomorrow (Tuesday), when daytime temperatures are predicted to warm up.
Community groups have come together to create a warming station at St John's Church located at 301 Main East. For individuals with no shelter, this location will provide a sleeping area with food.
If there is any individual requiring shelter, they will be accommodated.
The centre is a place for those who don't have shelter or don't have adequate heat in their home to go and be safe and warm, for a few hours or overnight. Cots and linens will be available for those who need somewhere warm to sleep. The warming centre opens at 7pm.
Government of Canada Weather .
The most common health problems associated with exposure to cold weather are hypothermia and frostbite.
Hypothermia occurs when the body loses heat faster than it is produced.
Warning signs of hypothermia in adults include:
 Shivering
 Exhaustion
 Confusion
 Memory loss
 Slurred speech
 Drowsiness
In infants, bright red cold skin, and very low energy are the signs of hypothermia. Warning signs of frostbite include:
 White or grayish-yellow areas on the skin.
Numbness and skin that feels unusually firm or waxy.
*****