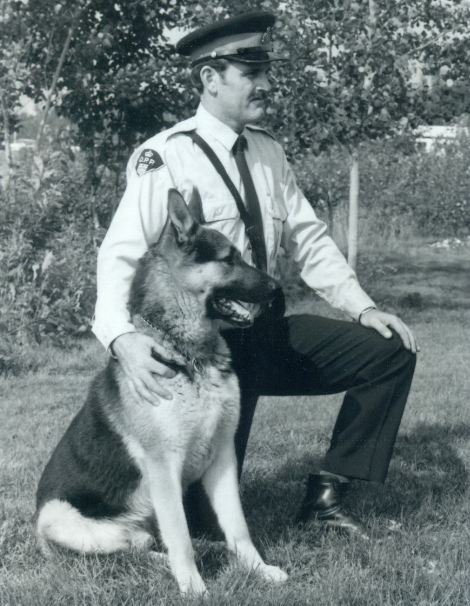 Ray Carson and his OPP dog Submitted photo.
One of the best known cops of his era, Ray Carson (1935-2014) -passed away peacefully at the North Bay Regional Health Centre on Wednesday May 28, at the age of 78 years.
He was the beloved husband of 55 years to Audrey Carson. Dear father of Tony (Sam).
Carson retired from the OPP as Staff Sargent after 32 years on the force.
He was responsible for the Ontario Provincial Police K9 unit for many years and was the handler of Cloud 1, Cloud 2 and Cloud 3.
Cloud II, a five-year-old German shepherd, is the only OPP dog ever killed in the line of duty. He was shot in 1975 when he was involved in the search for an escaped suspected murderer.
The dog was first buried at the former OPP district headquarters in North Bay.
However, his remains were exhumed, cremated and relocated to the OPP Museum in Orillia.
Carson spent four years handling Cloud II. Together they captured 123 criminals that were running from the law.
The two also appeared on the old CBC TV game show Front Page Challenge in 1974 .
Donations to the Ontario Parkinson`s Foundation in memory of Raymond will be gratefully acknowledged.
Online condolences at http://www.hillsidefuneral.ca